Ginebra import Vernon Macklin played hurt and played on
On the eve of his trip back to the United States, Ginebra import Vernon Macklin was in his condominium unit in Ortigas. With hands on his waist, he stared at two large bags and wished his t-shirts and pants would just pack themselves.
You know how some people don't like eating ampalaya? That's how Macklin dislikes packing for trips.
I wonder if the need to find luggage space for, perhaps, a PBA Best Import Trophy or, maybe, a pile of championship shirts would've made the bothersome chore of packing more bearable for Macklin. A critic might say he's stuffing his bags with stuff, yet he's going home empty-handed.
He didn't win the Best Import Award. He didn't win a PBA championship.
However, if Macklin had to physically pack his emotional experiences for his flight back to Virginia, I believe two spacious balikbayan boxes wouldn't suffice. He arrived in Manila as simply a replacement import. He's leaving Manila, even after Alaska swept Ginebra in the Finals, as an import with stories to tell.
"It was definitely a great experience," Vernon said. "I was warned before coming here that Ginebra had a crazy fan base. And the people who told me this were right. It was a wild experience."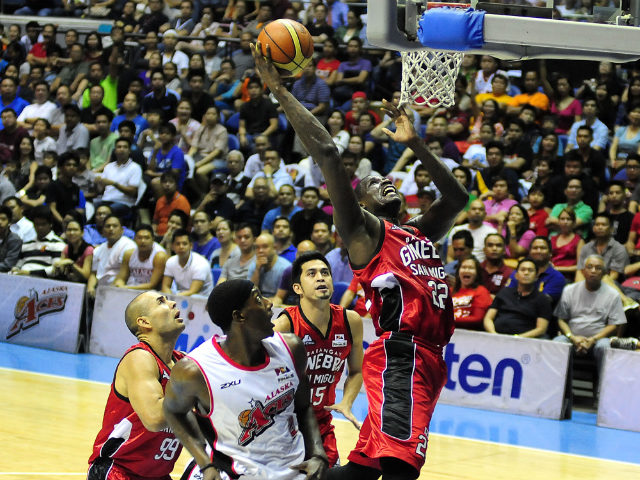 Ginebra import Vernon Macklin (R) gave all that he could in the Finals, despite an injury in the Finals.
KC Cruz
Ginebra fans saw something distinct in Macklin. Granted, they liked him because he could score 37 points in one game. But it had to be more than just the arrow-like jump-hooks and the rim-bending alley-oops. He had a special rage. Even Aaron Aban saw this first-hand. He wanted to win, badly. It was an unmistakable aura that inspired awesome fan artwork, made the Big Dome shake, and caused fans to roar.
That same special rage also pushed Macklin to play on, even if he was hurt. Because of a deep bruise on his right thigh, an injury he sustained during the semifinals against Talk 'N Text, he entered the Finals with compromised mobility. Facing Alaska's excellent defense, he felt like he was playing with a hollow block strapped to his right thigh.
"I tried everything to make it heal," Vernon recalled. "I tried the hot tub, cold tub, used padded tights. I kept trying to avoid getting hit. But in my position, it was impossible to avoid. It was also the mental pain. I just tried to fight through it."
I'm not surprised many Ginebra fans want to see Macklin back. It's better to see a hurting man try his best than to see a perfectly healthy athlete not try hard enough. I also won't be surprised if Macklin, even if he hates packing for long trips, returns next year. I suspect a man with infectious rage hates unfinished goals more than anything else.
"I believe Ginebra's never-say-die motto really means something," Vernon admitted. "We kept that never-say-die spirit. I tried everything I could. I was depressed. I hate to go out like that. The guys told me to come back. After everything we've been through this season, I want to go back."
- AMD, GMA News

MR. FAST

Admin





Posts

: 18119


Location

: Ginebra Tambayan



sana mkabalik tlga sya next year

betterhalf

Global Moderator





Posts

: 13764


Location

: manila



Babalik yan sigurado! at sigurado next yr champion na tayo pag sha ang import

MR. FAST

Admin





Posts

: 18119


Location

: Ginebra Tambayan



wag lang conflict sa sched baka kasi may salihan syang liga

betterhalf

Global Moderator





Posts

: 13764


Location

: manila



sana nga sya uli import natin...

nolzky83

Mythical 5





Posts

: 1187


Location

: cavite



unfinish business... sigurado babalik siya at sana mas gumaling pa sya....

raqui2101

First Five





Posts

: 580



sana available sya pagbalik nya next year, vmack version 2.0, hehehe

wnc19

Bench Player





Posts

: 333


Location

: Valenzuela City


Humor

: SVS or nothing =D




---
Permissions in this forum:
You
cannot
reply to topics in this forum