Ginebra fans clamor for return of Macklin. But can Kings bring 'V-Mack' back?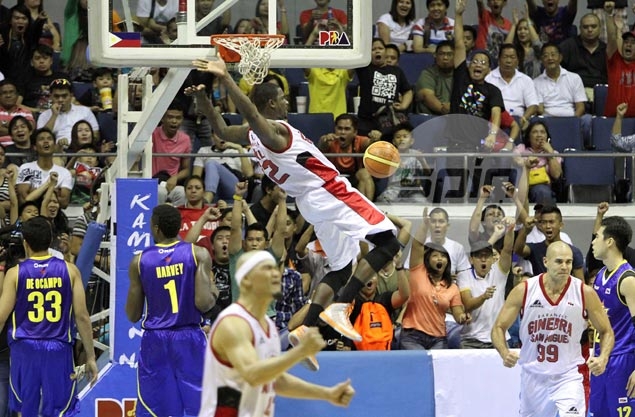 Vernon Macklin endeared himself to Ginebra fans with his high-wore moves and admirable work ethic. No wonder there is a strong clamor for his return.
Jerome Ascano


THIS early, there is a snowballing clamor among Barangay Ginebra fans to bring back Vernon Macklin for the mid-season PBA Commissioner's Cup.
Will the Kings bring V-Mack back?
Perhaps, the apt question is: 'Can the Kings bring him back?' The high-flying former Detroit Piston is listed as 6-foot-10 in most basketball journals - and in fact, is believed to stand as tall as 6-10 1/2, putting him over the height limit for the mid-season conference.
The Commissioner's Cup, you see, has a handicapping system in place for imports, with the top eight teams in the ongoing Philippine Cup allowed to tap reinforcements no taller than 6-9 and the last two ballclubs given the latitude to hire imports as tall as 6-11.
With Ginebra guaranteed the top seeding heading to the playoffs, the Kings will be handicapped by a 6-9 limit for their import, making Macklin a couple of inches over the ceiling.
But if Ginebra can bring 'V-Mack' back, it will. Team sources said he is at the top of the shortlist of imports being considered by management and coaching staff after he led the Kings back from a poor start with Herbert Hill all the way to the Finals last season opposite Alaska.
Ginebra itself isn't sure how tall Macklin really is since imports were not measured during last season's Commissioner's Cup because of the unlimited height rule in place.
But Macklin making it to the height limit is not improbable. Back in the US, players' heights are measured casually and are usually padded while in the PBA, imports are measured barefoot and lying down.
However, there's one other concern Ginebra needs to address. With the team now blessed with a tall frontline following the arrival of Japeth Aguilar, Greg Slaughter and Jay-R Reyes, will a center like Macklin still fit the Gin Kings' needs?
Sources said Ginebra is in search of a versatile import who can play both fronting and with his back to the basket and is comfortable in both the four and small-forward positions.
But before making the final decision, Ginebra is expected to make an inquiry into Macklin's real height.

Ginebra Tambayan

News Maker





Posts

: 1095



Ok lang naman saken na sha ulet kunin ng Ginebra atleast may legit post up player tayo, tsaka kabisa na nya yung laro ng Ginebra at ng PBA, malaking bentahe na kagad sa kanya yun..

MR. FAST

Admin





Posts

: 18119


Location

: Ginebra Tambayan



if and when VMack is not qualified as our import, siguro maganda kumuha ng import in the mold of Tony Harris, Billy Ray Bates - mga scoring machine, magkakaroon tayo ng threat sa low post and outside shooting with MC, CE, JA, MB, DA, LA, GS, et.al., ala eh, napakagandang line up niyan!

ampogi

Bench Player





Posts

: 405



gusto ko yung energy ni vmack.. nabubuhay yung team pag andun sya, sana pasok sya sa ht limit :)

jianaustin

First Five





Posts

: 749



Brumfield nalang kung di umabot sa limit si vmack

betterhalf

Global Moderator





Posts

: 13764


Location

: manila



malabo na siguro makuha si vmack ..............

garrett_jax

MVP





Posts

: 9552


Location

: Brgy. GINEBRA



ok sana si brumfield, ilan taon na ba sya kabs? baka matanda na tong mamang to...

raqui2101

First Five





Posts

: 580




---
Permissions in this forum:
You
cannot
reply to topics in this forum