Slaughter admits tricks taught by Taulava himself helped him break 'The Rock'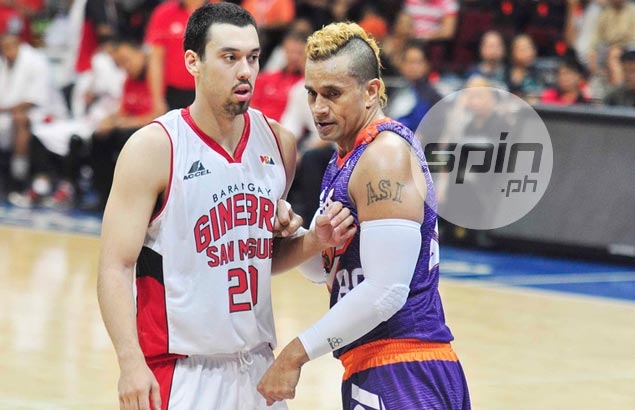 Knowing that Asi Taulava has been banged up after a recent enounter with Petron sophomore June Mar Fajardo, the 6-11 Greg Slaughter says he made a deliberate effort to be very physical against 'The Rock.'
Dante Peralta


VETERAN big man Asi Taulava is the first to attest that Barangay Ginebra rookie Greg Slaughter has improved by leaps and bounds since the last time they played against each other.
Unknown to him, Taulava should get part of the credit.
Moments after scoring 19 points to go with 10 rebounds and three blocked shots in his first PBA match-up with Taulava, Slaughter admitted that he relied on tricks taught to him by Asi himself during their time together with the Gilas team of Rajko Toroman.
"He (Taulava) really taught me the style of Philippine basketball, how to play it right, how to play it as a big man," the top pick in this year's PBA rookie draft said. "Because he's been dominating it for many years, he taught me plenty of tricks just to play out here."
Those lessons he kept in mind during his face-off with Taulava, the rookie said.
Knowing that Taulava has been banged up after a recent enounter with Petron sophomore June Mar Fajardo, the 6-11 Slaughter said he made a deliberate effort to be very physical against 'The Rock.'
"I know Asi is coming off a tough time against June Mar, so I'm sure he got banged up inside," explained the former Ateneo Blue Eagle big man after Ginebra's 78-69 win over Air21 Express. "I tried to be as physical as I can against him, go hard against him.
"But i have nothing but respect for Kuya Asi," he added.

Ginebra Tambayan

News Maker





Posts

: 1095



maybe even from Marcus Douthit had Greg learned some tricks, too. Just remain teachable, patient and humble, Greg...may the force be with you...

ampogi

Bench Player





Posts

: 405




---
Permissions in this forum:
You
cannot
reply to topics in this forum