Ginebra's Greg Slaughter is the Un-Kraken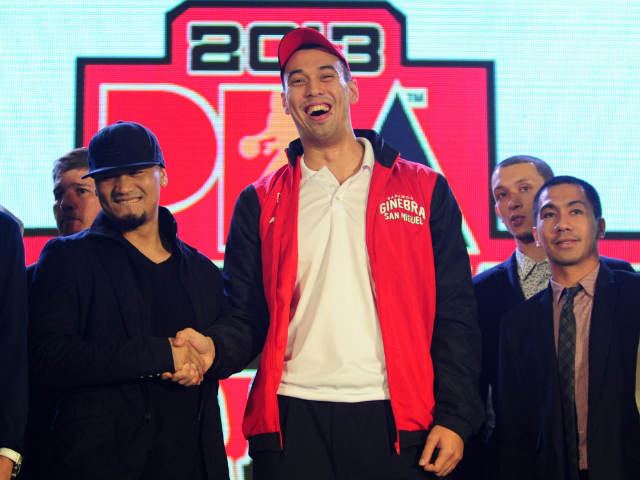 2013 number one overall pick Greg Slaughter is no longer clean-shaven. Thankfully.
KC Cruz
Greg Slaughter's goatee is back. Thankfully.
Without the goatee, one can say Greg is that boy-next-door type. I know. That would make him the tallest boy-next-door in the world. But what can we do? We all know he's almost seven-feet tall. He isn't menacing. If you meet him in a dark alley, instead of running away, you'll probably shake his hand and say, "Oh Greg, Kumusta."
Greg looks like he's ready for the pros. Thankfully.
Greg was jittery during the first moments of his first game in the PBA. Okay lang naman yun right? Besides, Ginebra's top rookie doesn't hide the fact that he was nervous in the first quarter. Playing against rival San Mig Coffee, before over 20,000 fans, any first-timer's knees would wobble.
"Yeah I was nervous at the start," Greg, the number one overall pick during the 2013 PBA Rookie Draft, admitted. "But as soon as I started to sweat, I felt better out there."
As soon as Slaughter calmed his nerves, I saw what I hoped to see. Ginebra's big man appears to have what it takes to collide with that other young Goliath in the PBA. I'm not saying he already has the skills to punish Petron's June Mar Fajardo. I'm saying I believe he's good enough to make us excited for the first clash between The Kraken and the…
Wait.
What are we supposed to call Greg, anyway?
What's a proper sobriquet for Ginebra's young giant?
"I actually don't like Sgt. Slaughter," Greg said. "My brother was a sergeant. So I feel like he's the real Sgt. Slaughter."
I asked, "What awesome name can we use for you then?"
"Slaughter is fine," he answered.
And there you have it. The perfect moniker for Ginebra's tower of fortitude in the paint: Greg "Slaughter" Slaughter.
Wait, what?
"What do your Ginebra teammates call you?"
"Just Greg."
"What did your Ateneo teammates call you before?"
"Just Greg."
Just Greg.
What if we just call him the Un-Kraken?
Slaughter's facial hair is the most amount of attitude you're going to get out of him. He doesn't party like a rock star. He doesn't have tattoos all over his arms. He isn't outspoken.
He is just…Greg.
And that's just fine.
Maybe it's even perfect.
Just go over the Instagram photos of Greg (gregslaughter) and June Mar (abai22). You'll see the difference. June Mar's Instagram account provides a steady stream of jokes and witty captions. Greg's Instagram feed is a steady stream of…Greg.
Just Greg.
I'm excited for Ginebra versus Petron on December 25. It will be blonde hair versus crew cut, Cebu versus Virginia, DOTA versus PS3, The Kraken versus The Un-Kraken.
"I can't wait," Slaughter said.
Greg scored 10 points and grabbed 13 rebounds in his first game. Thankfully, his goatee is back. Thankfully, he appears to have the contrasting personality and the frontcourt skills needed to become The Kraken's worthy adversary.
Even if he's not as animated as The Kraken.
Even if he's just Greg.
- AMD, GMA News

Source: Gmanetwork.com


MR. FAST

Admin





Posts

: 18119


Location

: Ginebra Tambayan



sa 25 kraken vs. un kraken ang ganda ng laban

betterhalf

Global Moderator





Posts

: 13764


Location

: manila



Kayanin nya kayang ma-single coverage si JuneMar? Big challenge to kay Greg sana makaya nya.. Pero sabi ko nga hindi mashado mappressure yang si Greg dahil nandyan si Japeth at Reyes pero sana dito palang masilayan naten kung ano ang kaya nyang ibuga sa katulad nyang higante..

MR. FAST

Admin





Posts

: 18119


Location

: Ginebra Tambayan



Lets call him "SLAUGHTERER".......

ampogi

Bench Player





Posts

: 405





Similar topics
---
Permissions in this forum:
You
cannot
reply to topics in this forum