Barangay Ginebra San Miguel 2013 draft preview
By 
POLO BUSTAMANTE
October 30, 2013 5:57pm
  0  147  0  180  
Tags: 
Barangay Ginebra San Miguel
 , 
PBA Draft
 , 
PBA Season
LA Tenorio (C) put up MVP-caliber numbers for the Barangay. 
Jeff Venancio2012-13 season recap:


Philippine Cup: 7-7 (6th), lost 1-2 to Barangay Ginebra San Miguel in the quarterfinals

Commissioner's Cup: 7-7 (7th), lost 0-3 to Alaska Aces in the Finals

Governors' Cup: 3-6 (8th), lost 0-1 to the Petron Blaze Boosters in the quarterfinals

[color][font]
What happened last season?
This was a promising year for Ginebra. After being lost in the shuffle for the past few years, they finally broke through and made a surprise Finals appearance in the Commissioner's Cup.
The trade for LA Tenorio before the season began ensured the team's future after Mark Caguioa, but he can't do it alone. Ginebra was most successful in the reinforced conferences, where they had monsters in the middle like Vernon Macklin and Dior Lowhorn.
What do they need?
Barangay Ginebra is going to need the some kind of post production for them to continue to rise to the upper echelon of the league, a cornerstone big man to pair with LA Tenorio to give the team a potent inside-out tandem.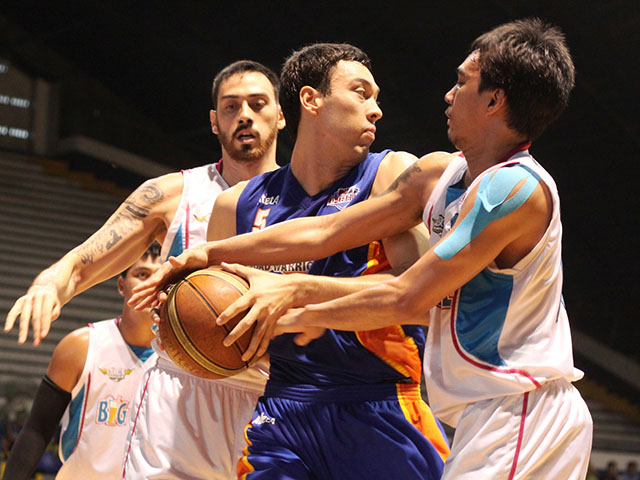 7'0" Greg Slaughter (C) projects to have many exciting duels with last year's number one overall pick June Mar Fajardo. 
Jeff VenancioWho do they pick?
Ginebra has the fortunate problem of having the first pick in a draft where the top prospects are big men. In the end though, this likely comes down to either Greg Slaughter or Ian Sangalang.
On paper, Sangalang looks like the better fit for Ginebra. He's got the more polished post moves, he runs the floor well and he's a proven rim protector. He draws comparisons to Ginebra franchise center Marlou Aquino with his game, and with his motor and energy, the former San Sebastian Stag looks like a solid pick for the running and gunning Ginebra.
However, it seems as if Caguioa, Tenorio and the rest of the Ginebra franchise are enamored by former Ateneo Blue Eagle Greg Slaughter. And why wouldn't they be? He's a once in a generation player with an NBA body (yes, NBA). He may not be as polished or active as Sangalang, but Slaughter will bring size and a legitimate back-to-the-basket game to Ginebra. In the age of June Mar Fajardo, teams will have to find ways to match-up to Petron's young stud. His former CESAFI rival Slaughter is a player who can do match-up against him one-on-one.
[Try out our 2013 PBA mock draft machine here]
Possible trades:
It's close to impossible that Ginebra trades away this pick. They're picking in a draft where their needs fit the top prospects. It would be crazy for them to throw away this chance.
But, if a trade were to happen, it would have to equal the value of this pick for Ginebra. The only players worthy of a number one pick in the league are June Mar Fajardo, Calvin Abueva and Jayson Castro. If any of those players were to be dangled by their respective teams for the top pick, Ginebra might think about it (or say yes in a heartbeat if it were June Mar).
Smart money though will be on Ginebra picking their franchise big man as planned. 
- AMD, GMA News
[/font][/color]

raqui2101

First Five





Posts

: 580




---
Permissions in this forum:
You
cannot
reply to topics in this forum