Source: Tanquingcen, Agustin high on Ginebra list of possible replacements for Chua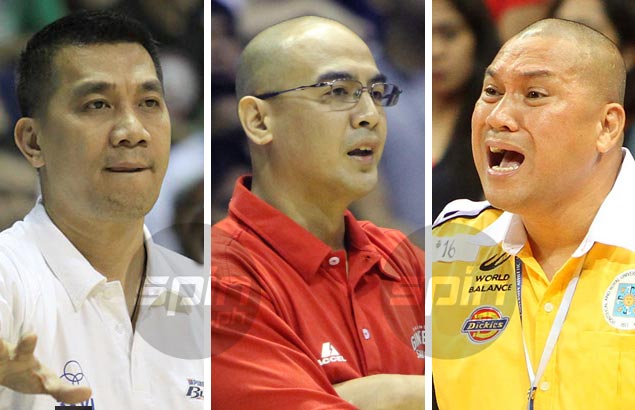 Ato Agustin, left, and Siot Tanquingcen are both available for the Ginebra coaching job while Pido Jarencio has been ruled out owing to his commitment with UST in the UAAP.
Jerome Ascano
SIOT Tanquingcen and Ato Agustin are high on the list of replacements being eyed by Barangay Ginebra after head coach Alfrancis Chua's shock resignation.

Tanquingcen, sources said, is being considered for a return to the Ginebra bench, just months after sliding down to assistant coach to give way to Chua who went on to lead the Kings to the Commissioner's Cup Finals.

Before Chua informed players of his resignation on Monday, Tanquingcen, who has won three PBA championships in his career including two with Ginebra, has already been moved to Petron as team manager in a shuffle involving coaches of the three teams under the San Miguel Corp. umbrella.

That same rigodon brought Agustin, along with University of the East coach Boycie Zamar and former Chua player Jorge Gallent, to Ginebra after a short break from coaching where he lost in his bid for the vice mayor's position in San Fernando, Pampanga during the last elections.

Agustin won one championship with Petron in 2011 before being replaced by Olsen Racela at the start of the season.

Between the two, sources said Tanquingcen is the more logical choice since he is familiar with the players and served as an assistant to Chua last season while Agustin is totally new to the team and its system.

According to team insiders, the plan is to hire an interim coach to handle Ginebra in the Governors Cup before management makes its decision on a new coach at the end of the season.

That was the reason Chua had been asked to file a leave of absence and not a resignation so he can have the option to return at the end of the Governors Cup, sources said.

Ginebra has yet to make an announcement on whether Chua's resignation has been accepted or not, or on its choice of replacement.

Ginebra actually has a pool of coaches to choose from, beginning with Chua's deputies Art Dela Cruz, Allan Caidic, Juno Sauler, Zamar, Agustin and Gallent, as well as Racela, who has been moved to San Mig Coffee to serve as one of Tim Cone's deputies.

However, Zamar, new La Salle coach Sauler, and his top deputy Caidic may be unavailable since they are coaching in the UAAP.

There is a strong clamor online among Ginebra fans to name Pido Jarencio as Chua's replacement, but like Zamar and Co. he has yet to finish his commitment with University of Santo Tomas in the UAAP.

There are also unverified reports that Jarencio has fallen out of favor with SMC bosses, the reason he was left in a 'floating' status after the latest round of coaching changes among SMC-controlled teams. (For full story, see 
Jarencio keeping mum on status with SMC group
)

Ginebra Tambayan

News Maker





Posts

: 1095



Si sioty?! ok naman sha kasi gamay na nya yung mga players pero sana talaga maconvince nila si Chua na bumalik.. ang ayaw ko lang kay sioty is tau-tauhan din sha ni Noli. tsk

MR. FAST

Admin





Posts

: 18119


Location

: Ginebra Tambayan



tama ka tol fast, tautauhan nga ni Eala yan si siot, kaya ubos din ang players natin dati dahil sa kanya..baka makuhang import si ala Herbert Hill na naman...naku nga...

neljimz

First Five





Posts

: 616



Do we have choice ba kabs? back to square one nanaman kasi tayo kung iba like ato agustin

MR. FAST

Admin





Posts

: 18119


Location

: Ginebra Tambayan



pagpiliin ako kay ato at kay siot, mas pipiliin ko pa rin si Siot...

neljimz

First Five





Posts

: 616



siguro jarencio nlang.. ayoko kay ato wlang dugong ginebra yan

betterhalf

Global Moderator





Posts

: 13764


Location

: manila



hindi magandang coach si siot, walang shuffle ng players yan, buti pa si pido kung mapipilit siya ng management, or else ato agustin...

ampogi

Bench Player





Posts

: 405



sabi ni MC47 he dreams about bal david... baka ang gusto ni mc47 si bal david ang magcoach????

a_perater@yahoo.com

Rookie





Posts

: 220



tama sinabi ni fasty! si sioty kasi tau-tauhan lang ni garapal eala. walang yagballsss.

eazynutz

MVP





Posts

: 1928


Location

: Milpitas. Ca. USA



pero sana Chua reconsider it... sayang kasi sabi nga ni MC47 he build the team... andun na un chemistry

mr23man




Posts

: 2




skyscraper

Global Moderator





Posts

: 17217


Humor

: #OustNoliEala




---
Permissions in this forum:
You
cannot
reply to topics in this forum