Ginebra, as always, will do it the hard way
Mico Halili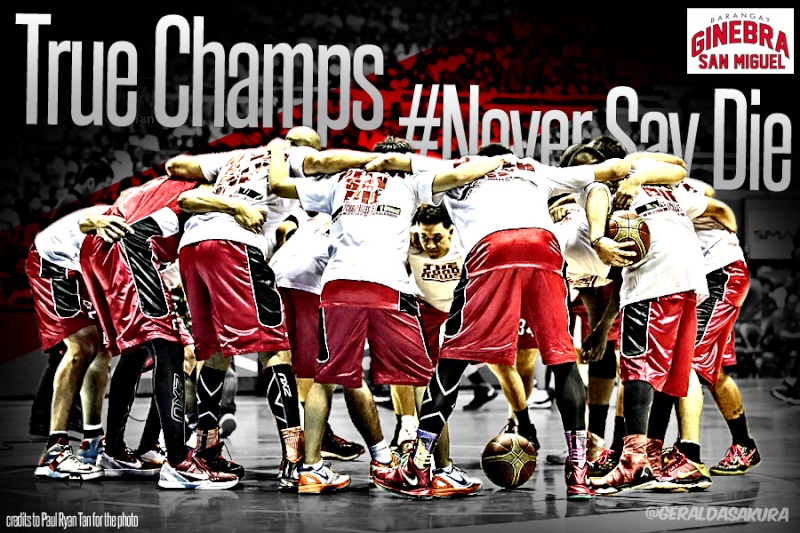 "As always, the expectation of ruin was never far away, but it had been pushed aside far enough for visions of old to crawl up from the dark recesses of our minds and make their way to our lips in bold assertions." – Philip Goldberg
When you're down 0-2 in the best-of-five series, life, ironically, becomes so much simpler. Your options, once limitless, are now clarified. The situation is so clear it hurts. Like starting at the sun without shades. For Ginebra, such clarification explodes in high-definition. Entering Game 3 of the PBA Finals, Ginebra must choose. Either falter and finally run out of miracles or win and possibly start another phenomenon.
In an insane way, Ginebra has been consistent. For some fans I imagine, the team is infuriatingly true to form. They dig a hole. They jump right in. We start writing obituaries. Everyone sends condolences. Then, cue Handel's Messiah, Ginebra ignores mortality and makes stubborn believers believe even more.
Remember how they played with Herbert Hill?
Remember how they finished seventh at the end of the elimination round?
Remember the twice-to-beat conundrum against Rain or Shine?
Remember a similar twice-to-beat deficiency against Talk 'N Text?
Dear Ginebra fans, your valiant crusaders are at it again. A longer route means a sweeter journey. Of course, Ginebra picked the most dramatic time to lose two straight games like severe underdogs. Against Alaska's defense, Ginebra has struggled, like they're trying to play basketball with a tennis ball, like they're swimming in the open sea, already gasping for air, with the nearest island still a dot on the horizon.
Yet no matter how one-sided the series has been, Ginebra can lean on this indisputable fact: zero and two is still not zero and three.
However, I'm uncertain how that distinction can alter Alaska's glaring advantages. Robert Dozier is making a compelling case for the Best Import award. Luigi Trillo has me ninety percent convinced that that damn Alaska necktie really has superpowers. Calvin Abueva is so good at playing mind games; he's not just playing mind games against Ginebra players, he's really playing mind games against everyone.
Maybe in Game 3, Vernon Macklin can bring his alley-oops back. Maybe LA Tenorio can summon the same fortitude that helped him score 28 points against Talk 'N Text. Maybe Abueva goes nuts, plays so recklessly that he smashes Alaska's game plan into tiny, indistinguishable pieces. Maybe Mark Caguioa goes back to the Mark Caguioa we know.
A series isn't over even if we've seen enough to suspect that it is. We might be forty-eight minutes away from crowning the best. We might be forty-eight minutes away from watching Ginebra's storybook run continue. If you're a Ginebra fan, the challenge is not to recall what Ginebra did before the Finals. The challenge is to forget what Alaska accomplished in Games 1 and 2. Mahirap yun. Down 0-2, a desperate team's only option, likewise the mantra for all sports underdogs, is to hope for the very best. - GMA News
Source:
The Final Score

---
Permissions in this forum:
You
cannot
reply to topics in this forum