The Alaska Aces and Ginebra Kings are for real... again
Carlo Pamintuan, GMA News
I still remember it quite vividly. I was at home in front of the television. My dad who was beside me was in stunned silence. My mom was with us but she was busy finishing her latest cross-stitched masterpiece.
The phone rang and I reluctantly picked it up. It was one of my older cousins, a guy who rarely watched basketball. He called to remind me of what I had just witnessed. "Talo na naman Purefoods mo," he said, trolling. I took the phone away from my ear and put it down. I didn't slam it out of anger. I put the phone down out of resignation.
What could I do? I shouted my lungs out. I knelt my knees raw. But in the end my favorite team lost to a team with machine-like precision.
The Purefoods TJ Hotdogs lost to the Alaska Milkmen 93-92 in overtime to win the 1996 All-Filipino Cup four games to one. Like in game one of those Finals, Alvin Patrimonio and the rest of the TJ Hotdogs came painfully close and ultimately, painfully short.
It was because of Jeffrey Cariaso's blazing drives to the basket, because of the awkward but effective jumpers of Bong Hawkins. It was because of Poch Juinio's knowledge of his role and Jojo Lastimosa's sexy legs. It was because of the overall brilliance of Johnny Abarientos and the beautiful mind of Tim Cone.
"These are the Alaska Milkmen," I thought to myself, or at least that's how I remember it. "And their time has come."
1996 was the Year of the Milkmen. They followed up with a Commissioner's Cup ring over Shell and a Governors' Cup title against Ginebra.
Their unbeaten stint at in the PBA Finals was finally ended by Ginebra, then known as the Gordon's Gin Boars, in the 1997 Commissioner's Cup. Ginebra's 1997 campaign encapsulated all of the classic moments that their fans still remember. May it be Noli Locsin defying gravity with his pabitin layups or Marlou Aquino perfecting his kilikili shot. It was the year when Bal David scored that legendary buzzer-beating game-winner against San Miguel and it also witnessed the ugly Robert Jaworski-Allan Caidic incident.
When a team faced Ginebra in those times, they needed to be mentally and physically ready for what was coming. If they weren't, the Kings will run them to the ground.
Alaska and Ginebra were two of the most feared teams of the 1990s. Fans of opposing teams feared Alaska for its consistency. They feared Ginebra for its tenacity. They feared the Milkmen's poise and the Kings' ferocity.
But in the past few years, this aura has been smashed. Alaska no longer performed with the utmost precision. Ginebra no longer played with unbridled fire.
For so long the Aces have been a non-factor. For so long they've been that old guy who was really good before, that bitter old guy who'd always revert back to the good old days to make himself feel better, because absolutely nothing was working for him in the present.
Alaska was stale. After catching lightning in a bottle and winning a championship with Daimon Simpson back in the 2009-2010 Fiesta Cup, they went back to being zombies, trudging along with no goal in mind. Then the key members of their team left one by one. Joe Devance asked to be traded. Cone walked away. LA Tenorio was similarly dealt away.
It looked like the team was in for even more years of being mediocre
But after a handful of smart trades, an un-Alaska-like draft pick, and a perfect import later, stale is the last word you'd think of to describe Alaska.
Sadly for the rest of the league, that old man found the fountain of youth. The formula was quite simple. It was two parts Luigi Trillo, one part Jvee Casio, three parts Robert Dozier, three parts Calvin Abueva, and ten thousand parts #WeNotMe.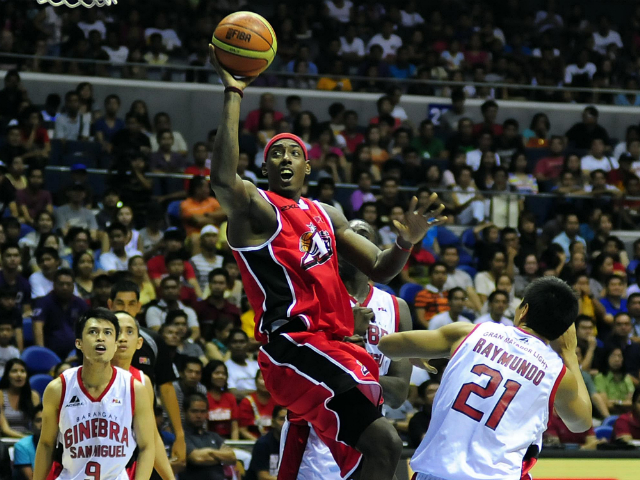 The Barangay on the other hand was trapped in no man's land in the past few years. Witnessing the end of the Fast and Furious era, the Gin Kings groped for form as they struggled between giving their old stars their due while giving their newbies the time to shine.
They went through hell with Herbert Hill, found a savior in Vernon Macklin, lost Mark Caguioa, and then figured out just how good they can become. They did it by mixing the old with the new. They allowed Jayjay Helterbrand and Kerby Raymundo to reprise their old roles while putting their trust in Chris Ellis. They banked on the grit of old-timers Rudy Hatfield and Billy Mamaril, while handing over the keys of their offense to LA Tenorio.
Now the Alaska Aces and Barangay Ginebra find themselves together at the big dance, although they traveled different roads.
The Aces rebuilt their team based on a philosophy. Trillo and his assistant coaches wanted a team that will concentrate on defense. They traded for the players they felt would fit their philosophy. They got a veteran with championship experience in Dondon Hontiveros, and a grossly underrated point guard in RJ Jazul. They got Casio to pair with Baguio, and Espinas to back up Thoss.
And then they unleashed Calvin Abueva.
With that one act, Alaska injected just the right amount of venom into their system to kill whatever it was that ailed them. It also reignited the passion of their once proud fans who were waiting all this time for a spark to happen.
Ginebra on the other hand were constantly wheeling and dealing in search pf the perfect mix. They collected highly flammable materials that refused to combust. Then they elevated Alfrancis Chua from consultant to head coach, and everything fell into place. Barangay Ginebra also followed suit by shaking the Araneta Coliseum to its very core every time their Kings went on one of their fiery runs.
The Alaska Aces and Barangay Ginebra have remained dormant in the past few years, but now it's time to be afraid of these teams again. The faces may have changed, but that old Alaska pride and that old Ginebra never say die spirit are still within these teams.
This is no flash in the pan. No one and done arrangement. Be afraid. These Alaska Aces and Barangay Ginebra are for real...again. – GMA News
Source:
GMANews

---
Permissions in this forum:
You
cannot
reply to topics in this forum