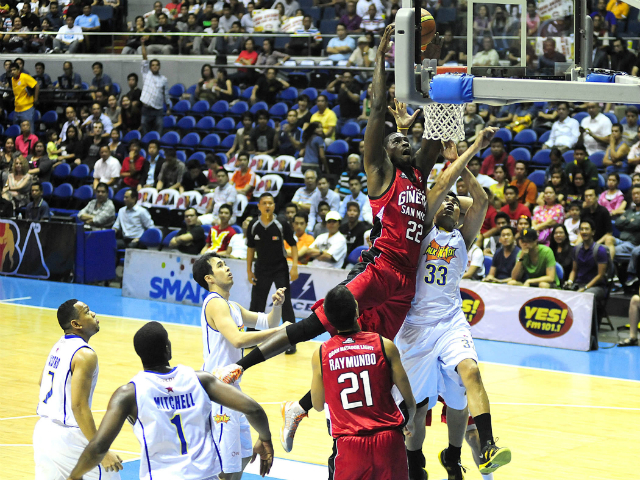 (Updated 9:36pm) Barangay Ginebra San Miguel staved off elimination in the PBA Commissioner's Cup semifinals, bouncing the Talk n' Text Tropang Texters to force a deciding game five, 104-101, on Friday at the Smart-Araneta Coliseum.
Ginebra wasn't ready to say die against Talk n' Text, who pushed them to the brink after successive victories in games two and three.
With the game tied at 99-99, Ginebra called timeout with a minute to play and set up Vernon Macklin on the block for two. Jayson Castro isolated and missed a three-pointer on the other end, but Larry Fonacier secured the board and called a timeout, this time isolating Tony Mitchell whose right-hand drive didn't go. The Texters were forced to foul LA Tenorio, who made two charities to make it a two-possession game with 14.3 seconds remaining.
Talk n' Text burned their last timeout, but another drive by Mitchell wouldn't fall. The ball fell out bounds but TNT kept possession with 6.4 ticks left. Ryan Reyes laid in a Fonacier triple that fell wide, and Ginebra took a 30-second timeout with 2.9 seconds on the clock. They inbounded the ball to Kerby Raymundo, who was fouled and made only the first charity, but it was enough for Ginebra to live another day.
"I can't say anything. I've got to give it to the boys. They didn't quit," said Ginebra head coach Alfrancis Chua. "This win is for my players. Hands down, wala na akong masabi sa kanila."
Chua praised TNT for giving them a tough fight, especially Mitchell's stellar production. "Actually we're the victim of Talk n' Text. Every time they change an import, kami ang unang kalaban lagi," adding that TNT's last import Jerome Jordan debuted against his team. "[Mitchell]'s a very good import. We can't stop him; we can't contain him."
However, he was displeased with the officiating, especially with the way he felt Macklin was being manhandled inside. "The referees should call the cheap shots. We're gonna play hard, but we're not gonna hurt people like that," complained Chua. He demanded that the officials pay closer attention, especially since he said his import was receiving close-fisted blows on the court.
Macklin posted 37 points, 12 rebounds and four assists, while JJ Helterbrand scored 17 points off the bench. LA Tenorio flirted with a triple-double after garnering 16 points, eight rebounds and eight assists. Chris Ellis and Kerby Raymundo added 13 and 12 points, respectively, and totaled eight rebounds.
Ginebra got Vernon Macklin a couple of looks to start the game en route to building a 13-8 lead. The Texters, who had trouble finding their range, found points from the block by Ranidel De Ocampo and Tony Mitchell. Talk 'N Text then went on a 13-4 run while Ginebra couldn't convert from the line, 21-17.
The energy picked up in the last three minutes as Macklin completed two dunks after going dunk-less in game three. Mitchell upped the ante when he scored on an alley-oop by lobbing the ball to himself, preserving a 29-26 Texters lead after the first period.
Ginebra got away with pushing the pace in the second quarter as JJ Helterbrand's hot shooting carried them early on. Helterbrand stroked nine of Ginebra's first 14 points, giving them a 40-39 lead that forced TNT head coach Norman Black to call a timeout.
Meanwhile, Mitchell continued to confound defenders as he got his points off various looks. A controversial goaltending call on a Mitchell drive got Ginebra fired up, and they expressed their displeasure to the point of picking up two technical fouls over their next two defensive possessions, trailing 45-44.
But Ginebra wasn't finished; Helterbrand and LA Tenorio, all fired up, drilled two triples on the other end and combined for nine unanswered points to lead 52-45.
Talk 'N Text tried to slow down Ginebra in the last four minutes by deliberately fouling Macklin on the move. The tactic didn't work, as Macklin went 4-of-4 from the line and combined with Kerby Raymundo for nine of their last 13 points to retain a 65-55 lead at halftime.
Ginebra's 65 first half points were a season-high for the league. They connected on 21-of-41 field goals (51.2 percent) including 5-of-9 from long range, while TNT shot a 20-of-40 clip (50 percent) including 2-of-9 from beyond the arc. Ginebra also held a 11-2 margin in turnover points and 6-0 in fast break points.
With Mitchell leading the way, Talk 'N Text's aggressive play put Ginebra in the penalty just a minute and a half into the third quarter, but Ginebra held their ground with huge baskets by Tenorio and Chris Ellis, 74-65.
Halfway through the period, Macklin shoved De Ocampo during a deadball situation, alleging that the latter hit him below the belt. The referees slapped him with a flagrant one foul and benched him for three minutes. De Ocampo split the awarded free throws, 74-66.
Without Ginebra's rim protector, Harvey Carey scored five as the Texters logged ten unanswered points off easy penetration and offensive rebounds, taking a 75-74 lead as Jayson Castro took advantage of a mismatch.
Alfrancis Chua took a gamble in the last four minutes and fielded Mac Baracael despite having four personal fouls. The swingman repaid his coach immediately with a three-pointer and a transition hoop. However, they couldn't pull away as Talk n' Text, hamstrung by their turnovers, kept the game close. Larry Fonacier scored four of their last six to knot the game at 81-apiece after three quarters.
Ginebra struggled without Macklin on the floor, making just 7-of-20 from the field (35 percent) while TNT made 9-of-19 (47.4 percent). Ginebra also conceded a 9-0 margin in second-chance points in the period.
Mitchell and Macklin traded baskets early in the fourth, and the Texters got the upper hand by effectively disrupting Ginebra in their halfcourt sets. Talk n' Text posted an 10-2 swing to nose ahead, including eight by Mitchell, 94-90.
However, it wasn't long before Macklin bullied his way to the free throw line again. Ginebra's penetration built up a 9-4 run, including a transition slam by Macklin to take a 99-97 lead with under three minutes to play. Both teams traded two stops each, before Ellis used his sixth foul on Mitchell to prevent a fastbreak bucket. Mitchell converted both, drawing the game at 99-all.
Ginebra wound up shooting 5-of-11 in the final period to finish with a 33-of-72 mark overall (45.8 percent). Meanwhile, TNT was held to 5-of-16 for a 34-of-75 clip (45.3 percent). The Texters converted just 2-of-14 from beyond the arc (14.3 percent) while Ginebra made 7-of-20 (35 percent).
Ginebra also logged 13-of-16 charities in the final quarter for 31-of-40 overall (77.5 percent) versus the Texters' 10-of-13 for 31-of-42 overall (73.8 percent).
Talk n' Text wound up with a 20-6 advantage in second-chance points, while Ginebra won the fast break points battle, 14-5.
Tony Mitchell scorched Ginebra with 45 points, 11 rebounds and five assists. Ranidel de Ocampo was the only other Texter in double digit scoring wither 12 points and seven rebounds. Jayson Castro notched seven points, six rebounds and six assists on 3-of-11 shooting from the floor. - RAF, GMA News
The scores:
GINEBRA 104 - Macklin 37, Helterbrand 17, Tenorio 16, Ellis 13, Raymundo 12, Baracael 7, Hatfield 2, Espiritu 0, Urbiztondo 0.
TALK N' TEXT 101 - Mitchell 45, De Ocampo 12, Castro 7, Carey 7, Al-Hussaini 6, Reyes 6, Raymundo 4, Fonacier 4, Ferriols 4, Peek 4, Alvarez 2, Aban 0.
Quarters: 26-29, 65-55, 81-81, 104-101
SOURCE: GMAnetwork

Ginebra Tambayan

News Maker





Posts

: 1095



isang panalo po finals na..hehehe

nolzky83

Mythical 5





Posts

: 1187


Location

: cavite



Ninerbyos ako ng bonggang bongga last night! Good thing Kebry, Hatfield, and others stepped up and put up a good defense. Hope we'll make it to the finals. Lets all pray for it mga kabs!

Sode No Shirayuki

Global Moderator





Posts

: 686


Humor

: Get ready and get happy. We're going to negotiate a fake truce and I don't want your attitude screwing it up.




---
Permissions in this forum:
You
cannot
reply to topics in this forum