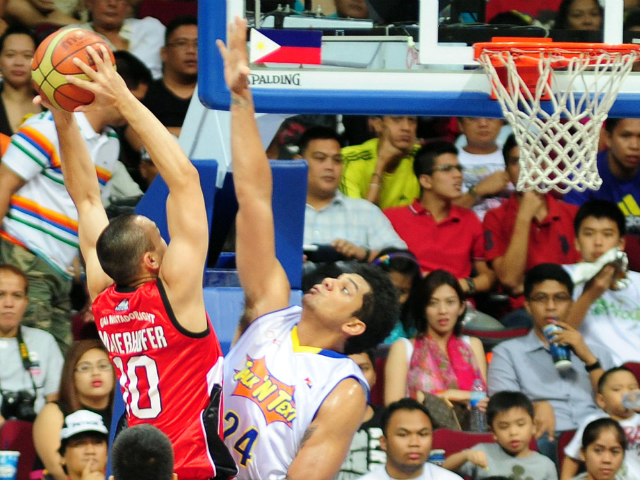 If you were to ask me why the Talk N' Text Tropang Texters can beat Barangay Ginebra San Miguel in their best-of-five semifinals series, that would make for a very short article. Between the two teams, the Tropang Texters are the better team. In every aspect of the game, TNT just dominates Ginebra.
[Series infographic - #6 Talk 'N Text Tropang Texters vs #7 Barangay Ginebra San Miguel]
I can gush about TNT's guards for an entire article. They have the best backcourt in the entire league. The best. No one comes close. They're athletic, fast, intelligent, consistent and unselfish.
Jayson Castro, Jimmy Alapag, Ryan Reyes, Jared Dillinger and Larry Fonacier, individually could be starters for any other team in the league. But here they are, sharing the same backcourt. The fact that they're willing to give up minutes, touches, and all the accolades that come with gaudy statistics makes them that much more fearsome.
Ginera's decimated backcourt looks overmatched against the juggernaut that TNT trots out.
You want to compare the TNT front court against the Ginebra front court? Other than import Vernon Macklin, Ginebra has no clear advantage against TNT.
The Tropang Texters have bigs that compliment their guards perfectly. Ali Peek, Ranidel De Ocampo, Rabeh Al-Hussaini, Harvey Carey and Jerome Jordan don't put up huge numbers. Instead, they choose to get the job done. You know what you're getting from them: defense, rebounding, pick-setting, hustle and toughness. Any scoring you get from them is gravy.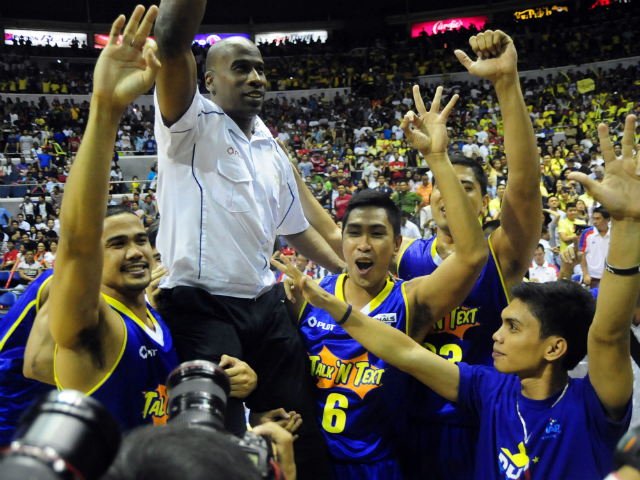 Putting all this together is one of the most brilliant minds in Philippine basketball, Norman Black.
Black is the master of in-game adjustments. He deploys his weapons strategically, at the perfect time during the game to turn the tide in his favor. He's also mastered the art of the "hugot." He draws the best out of all his players. Because of that, guys like Aaron Aban and John Ferriols, if used in the right situations become baffling match-up problems other coaches need to adjust to.
The Tropang Texters were assembled and trained to win championships. They're the #BoringDeathMachine as my friend puts it. They methodically attack other teams, via the weaknesses in their defense. They surgically remove the other teams' best weapons and allow the lowest percentage shots possible.
They've been dormant for much of the season, but the kill-switch has been turned on and they're out to add to their trophy collection.
TNT is the clear, logical choice in this match-up against Ginebra. I counted them out them against Petron and they made me pay for my doubt.
But, here I go again.
I believe, with every fiber in my body, that Ginebra will beat TNT.
I can't help but look back at the entirety of this conference to realize just how much Ginebra had to endure just to be here. This entire Commissioner's Cup stint of Ginebra was made for the movies.
The Barangay started the season winless in four games. Their superstar backcourt of LA Tenorio and Mark Caguioa had not clicking, and the entire team looked like they were in disarray. Then import Vernon Macklin comes in, energizes the team, and they rattle-off win after win after win. But just when you think that Ginebra is finally rolling though, Mark Caguioa goes down with an injury.
And yet, Ginebra endures.
They continue to win without their best player, the heart and soul of the team. They lose another key contributor in Billy Mamaril. Their line-up is decimated by injuries. They close out the eliminations with huge losses while the other playoffs-bound teams around them continue to win. They drop to the seventh place and face a talented, well-coached Rain or Shine team armed with a twice-to-beat advantage.
By no stretch of the imagination should this team still be alive. But here they are. They endured, and beat the Elasto Painters in two grueling games.
What's gotten me drinking the Kool-aid (or gin, in this case) isn't the fact that they beat Rain or Shine. It was how they beat them.
Looking back to the last moments of the game, it took two made free throws, in the clutch, by a 47 percent free-throw shooter to give Ginebra the lead. That, in itself defies logic.
But the basketball gods decide to one-up themselves in the next possessions.
In the dying seconds, Jeff Chan, a guy who's made a living hitting shots from 25-feet and beyond, misses a two-foot gimme. Tutok na, mintis pa. And with that Ginebra once again endures.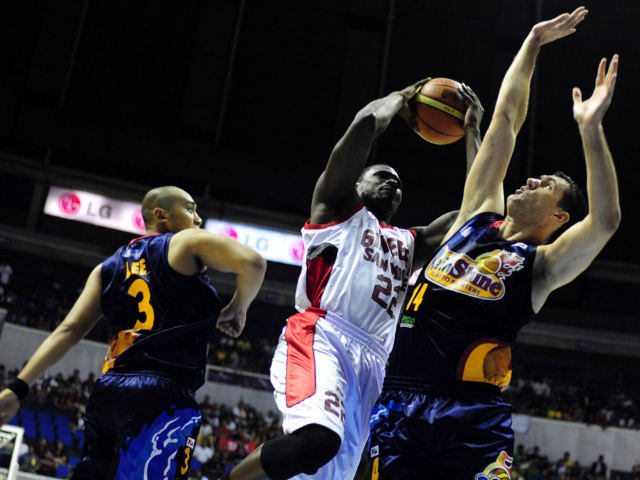 There was no miracle shot at the buzzer by Mark Caguioa in the books. Not for this team. It took a tough, take-no-prisoners defensive stand anchored by their savior, Vernon Macklin, that helped them survive. They endured a 15-point deficit in the first game to force the do-or-die. They endured through a two-point performance by their superstar, LA Tenorio to get to those fateful final possessions.
This team makes no sense. Here they are, in the biggest games of the conference and they're relying on big games by big names of the past, Jayjay Helterbrand and Kerby Raymundo to win them games.
They've banded together, relied on each other, devoured the inspirational words of their coach to keep on going, to keep on enduring. They just refuse to die.
[From the Stands podcast episode #53 - The Alex Mallari episode]
Ginebra is battered, bruised, and beat-up. But they're not broken. They've taken the power of belief and they used it as a shield against all of their doubters, both internally and from outside forces. Together with the millions of fans, they will continue to believe, even against the gauntlet that they face in Talk N' Text.
So go ahead, I dare you to tell me otherwise. But I believe that Ginebra will continue to endure. - AMD, GMA News
SOURCE: GMAnetwork

Ginebra Tambayan

News Maker





Posts

: 1095




---
Permissions in this forum:
You
cannot
reply to topics in this forum