The Final Score: Is Vernon Macklin ready for Extra Rice Incorporated?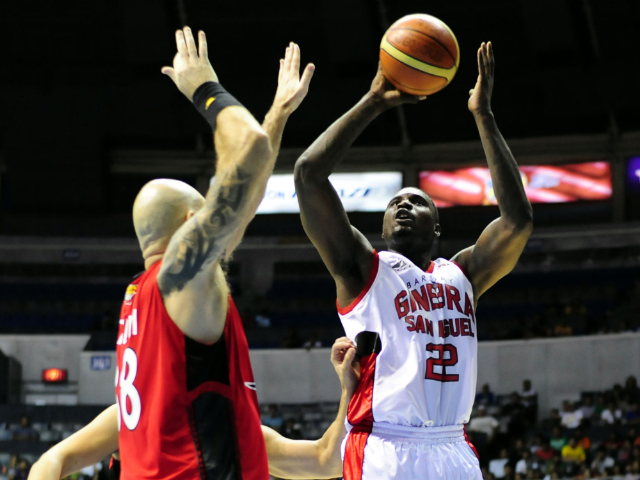 Are you not entertained? Vernon Macklin helped Ginebra to their first win. The Rain or Shine Elasto Painters though, might be a whole different challenge.
KC Cruz
I joined the From The Stands podcast last February 27 to talk about the PBA. We all just watched Ginebra beat Barako Bull by 21 points. Polo Bustamante, one of the three hosts, asked me, "Are you impressed with Vernon Macklin?" I replied, albeit hurriedly, "No."
In hindsight, maybe the better answer would have been, "Not yet."
Macklin scored 21 points, grabbed 14 rebounds and made eight out of 16 FG attempts. Why wasn't that impressive enough?
Maybe I was looking for the kind of bottomless energy Renaldo Balkman has. Maybe I was looking for the kind of go-put-the-team-on-my-back-I-got-this mentality Denzel Bowles has. Maybe I shouldn't be looking for these qualities in every import in the first place.
Ginebra back-up point guard Rob Labagala swears that Macklin is a right fit for the team. "Halimaw siya," Rob shares. "And maganda pa attitude sa team."
Yun naman pala eh. Vernon is clearly better than Herbert Hill. His presence is making Ginebra players and coaches, despite the team's 1-4 record, more optimistic than they were at the start of the tournament.
Forget Macklin's 7-of-20 shooting performance against Alaska. Instead, remember that he collected 20 rebounds. Forget his 5-of-12 performance from the free throw line against Barako Bull. Instead, remember that he helped Ginebra register their first win. Forget making unreasonable demands for imports to do it all. Instead, remember that the primary task of imports is to make their teams better.
I should've answered, "Not yet." Two games shouldn't be enough for me to summarize Macklin's abilities. When Bustamante asked me to evaluate Macklin's performance, I should've replied, "Not yet. But I'll wait for his game against Rain or Shine on March 3 before I make my evaluation."
For PBA imports, there are acid tests. Then, there are nuclear tests. Then, there's Rain or Shine. If Labagala is correct, then Macklin should have what to takes to overcome Bruno Sundov, who is 7-feet and 3-inches tall, and the Beau Belga-JR Quiñahan tag-team, which is 7-feet and 3-inches wide. I really shouldn't haphazardly measure Macklin against Balkman or Bowles. I should primarily measure Macklin against immediate opposition. This is the best test.
Macklin completely understands Ginebra's reputation. Sheryl Reyes, his adviser, told Macklin that Ginebra and the Lakers are the same. So many talented players. So many fans. So many expectations. All they need to succeed is to get it all together.
By now, Macklin should also completely understand Rain or Shine's bruising reputation. Rain or Shine is the Boracay of physical basketball. You have to experience it in order to fully appreciate it. The goal of the Elasto-Painters is for imports to say, "Physical basketball, it's more fun in the Philippines."
After Ginebra plays Rain or Shine on Sunday, maybe I should join the From The Stands podcast again. If that happens, maybe Bustamante should ask me that very same question, "Are you impressed with Vernon Macklin?" Hopefully, for Ginebra's sake, I will have a very different answer.
Source: Mico Halili, GMA News.com

garrett_jax

MVP





Posts

: 9552


Location

: Brgy. GINEBRA



Yung UNLI RICE kayang kaya nga yung Extra Rice pa?

MR. FAST

Admin





Posts

: 18119


Location

: Ginebra Tambayan




---
Permissions in this forum:
You
cannot
reply to topics in this forum