Ginebra bid for Aguilar may be revived as SMC bigwigs meet to plot next move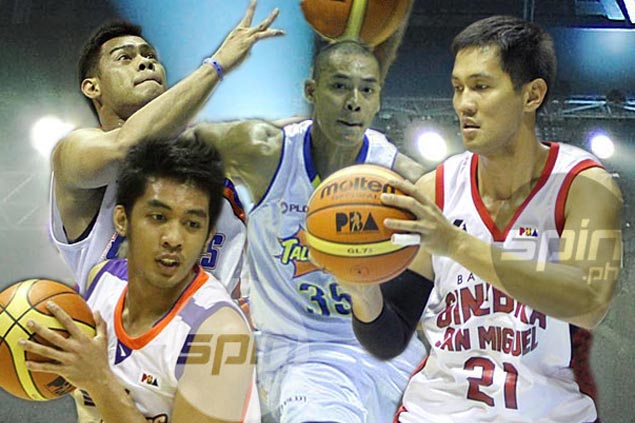 BASKETBALL officials of of San Miguel Corp. are meeting on Sunday to plot the organization's next move in the wake of Ginebra and Petron's aborted trade bids for Japeth Aguilar and a couple other players.
Sources told Spin.ph that San Miguel head of basketball operations and current PBA chairman Robert Non had requested for a meeting with Ramon S. Ang, a hands-on boss who has the final say on player and coaches' movements among the three teams under the SMC umbrella.
A meeting that was supposed to be the usual pre-conference round-table discussion among Ang and his coaches will now involve Non and other team governors as they decide on whether to pursue an aborted deal last week that was supposed to bring Aguilar to Ginebra's fold. (For the full story of the aborted deal, click here: Rumor or Fact).
"Dapat tuloy na yun talaga eh. Pero ngayon mag-uusap ulit sila," said the Spin.ph source.
Under the terms of the original proposal of a complex six-team deal, Petron was supposed to part with forward Jay Washington and get Vic Manuel and Jason Deustchmann from Globalport while Aguilar was set to land in Ginebra's lap while the Kings part with Kerby Raymundo, who in turn will be packaged by Globalport with Rey Guevarra and sent to Meralco for Sol Mercado and Kelly Nabong.
Globalport, for its part, would have ended up with Mercado and Washington.
When San Miguel pulled the plug on the deal on the sidelines of the PBA board's planning session in Singapore last weel, Globalport went ahead with two revised deals: the Mikee Romero-owned franchise got Aguilar in a straight swap with Talk 'N Text for Rabeh Al-Hussani then acquired Mercado, Nabong, and JP Belencion from Meralco for Guevarra, Manuel, Josh Vanlandingham, and a first-round draft pick.
"Ayaw kasi i-alis sa Petron nung isang SMC official si Jay Washington. Maganda daw kasi ang nilalaro recently," bared a source, explaining the SMC organization's last-minute change of heart.
The talks with Ang, however, could see the SMC group revive its bid for Aguilar in deals that need to be repackaged since the original pieces of the transaction - like Mercado, Manuel and Nabong - have already been sent to other teams.
An option for the SMC organization, however, is to incorporate Aguilar in another transaction that is currently on hold - one that could involve Petron, Ginebra, Air21, Globalport, and Meralco, and players Ronjay Buenafe, Noy Baclao, Jason Ballesteros, John Wilson, and Raymundo.
One stumbling block to the deal could be Romero's expressed desire to keep Aguilar at Globalport, where he is set to join a core that now includes Mercado, Gary David, and Willie Miller.
One official from Meralco admits they are now closely monitoring developments at San Miguel camp, saying: "The ball is already in their hands."
Meralco is looking to acquire the fleet-footed Raymundo in the trade, with Aguilar set to go to Ginebra, Air21 acquiring Buenafe, and Globalport getting Washington.
Follow the writer on Twitter: @spinph
Source:
Spin.ph
tapusin na yan! ang tagal ng Japeth Aguilar Saga na yan

MR. FAST

Admin





Posts

: 18119


Location

: Ginebra Tambayan



oo nga ituloy na yan kung itutuloy at sana last trade na yan

AngelRose26

MVP





Posts

: 2495



daming satsat nakakairita na tapusin na yang trade na yan... yun lang

nolzky83

Mythical 5





Posts

: 1187


Location

: cavite



pero sa tingin ko talagang nasa trading block si kerby..

MR. FAST

Admin





Posts

: 18119


Location

: Ginebra Tambayan




---
Permissions in this forum:
You
cannot
reply to topics in this forum