PBA: Ginebra show off their never-say-die spirit, force game three versus Rain or Shine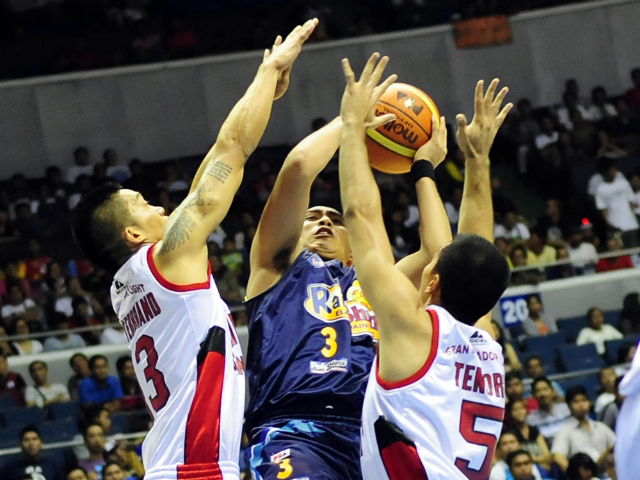 RENEE AVENA FOPALAN, GMA NEWS December 14, 2012 9:26pm
(Updated 9:56pm) Backed into a corner, Barangay Ginebra San Miguel showed off the full extent of their fighting spirit.
The Barangay stormed back from an eight-point halftime deficit thanks to some tough defense, to force a winner-take-all game for the last semifinals berth in the 2012-13 PBA Philippine Cup, via a 79-77 win, Friday at the Smart Araneta Coliseum.
[Check out the play-by-play of this game here]
It was a complete turnaround from Rain or Shine's blowout 82-65 win, Wednesday, which gave them a 1-0 lead in the best-of-three series.
Jeff Chan had a chance to win the game, launching a wide open triple in transition that went in and out, but Gabe Norwood was there to haul down the offensive rebound and call timeout.
On the resulting play, Paul Lee had the ball versus Mark Caguioa, who poked the ball away from the sophomore gunner. Referees ruled that it was touched last by Caguioa, giving the Elasto Painters one more opportunity to steal a win or force overtime.
It was not meant to be though, as Gabe Norwood's inbounds pass with two seconds left was poked away by Rudy Hatfield, to seal the win for Ginebra.
"The key thing was the personification of Rudy, yung puso ba. He didn't wanna give up diving for loose balls," said Ginebra head coach Siot Tanquingcen.
The Barangay opened up the game with a 9-1 run, before Ronnie Matias and Gabe Norwood got Rain or Shine within three. Baskets from Rudy Hatfield and Mark Caguioa established a 22-13 lead for Ginebra, before a Ryan Arana basket and a Paul Lee trey ended the first with the Elasto Painters only down by two, 22-20.
After Jeff Chan tied the game at 22-all, Arana hit a triple to put Rain or Shine ahead. The Elasto Painters would go on to complete a 12-2 run, to get ahead 37-28, with 5:11 left. A JR Quiñahan triple and a split from Larry Rodriguez ended the half for Rain or Shine, as Chris Ellis and Billy Mamaril kept Ginebra within striking distance, 41-33.
Come the third, Billy Mamaril and LA Tenorio combined for 11 early on to tie the game at 44-all with seven minutes left in the game. Consecutive hits by Caguioa and Ellis finally put Ginebra ahead, 52-48, with three minutes remaining. Paul Lee countered with a three, before Rico Maierhofer hit a pair of free throws to keep Ginebra ahead. Back-to-back hits from Lee momentarily gave Rain or Shine the lead yet again, 55-54, with 24 ticks to go, but Ellis would have the last say of the period with a booming triple, 57-55.
The two teams went back and forth early in the payoff period, before Tenorio and Hatfield strung six straight to put Ginebra ahead, 70-62, with seven and a half minutes left. A jumper from TY Tang and a Chan trey kept Rain or Shine close, but Caguioa and Mamaril responded with their own five-point swing, 75-67.
A Chan triple made it a four-point game with three and a half minutes remaining, 77-72. RoS had a fast break opportunity brewing, but Beau Belga was whistled for an offensive foul for falling on Rico Maierhofer, giving the Barangay back the ball. That led to an Ellis conversion off a put-back, to mark the last two minutes of the game, 79-72.
Rain or Shine still kept creeping up closer, as two charities from Jervy Cruz, and a Paul Lee triple turned the situation into a two-point affair, 1:06 left, 79-77.
On the next Ginebra possession, Tenorio went for a lay-up late in the shotclock, before picking up his own miss to reset the play. "The Lieutenant" would slip however, leading to Chan's miss in transition, to set up the heart-stopping final moments of the game.
It was a team effort for Ginebra, with Ellis leading the pack with 18 points and 10 boards. Caguioa chipped in 17, while Tenorio added 16.
Paul Lee led Rain or Shine with 19, while Jeff Chan added 12 with a 2-of-10 shooting clip from three-point range.
Gabe Norwood@GNorwood5
That loss is on me. Last 2 seconds, I gotta give us a chance to get a shot up. Good play by Rudy on a bad decision by me. #BounceBackSunday
14 Dec 12 ReplyRetweetFavorite
After the game, Norwood tweeted out his frustrations, saying, "That loss is on me. Last two seconds, I gotta give us a chance to get a shot up. Good play by Rudy on a bad decision by me."
Game three between the two sides is set for Sunday, also at the Smart Araneta Coliseum, with the winner advancing to play the San Mig Coffee Mixers in the semifinals.
"Next game, kailangan yung focus, yung concentration. Patay kung patay," added Tanquingcen. - AMD, GMA News
The scores:
Ginebra 79 - Ellis 18, Caguioa 17, Tenorio 16, Hatfield 10, Mamaril 9, Maierhofer 4, Helterbrand 3, Taha 2, Jensen 0, Espiritu 0, Wilson 0, Raymundo 0
Rain or Shine 77 - Lee 19, Chan 12, Arana 9, Cruz 8, Norwood 8, Tiu 7, Quinahan 5, Belga 3, Matias 2, Tang 2, Rodriguez 2
Quarter scoring: 22-20, 33-41, 57-55, 79-77
Source:
GMANews

---
Permissions in this forum:
You
cannot
reply to topics in this forum