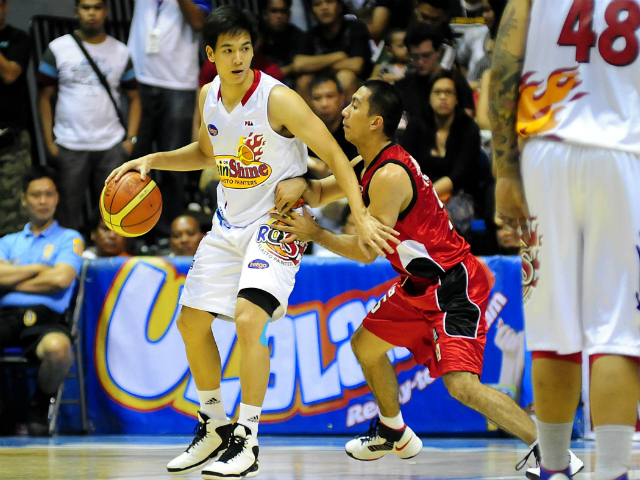 The Barangay's never-say-die attitude was in full display on Sunday, as they climbed back from an 18-point hole to defeat the Rain or Shine Elastopainters, 97-90, at the Araneta Coliseum.
LA Tenorio had 20 points, 10 assists with a 10-of-11 clip from the foul line to keep Ginebra's winning streak alive.
"We didn't play well in the first half; terrible, we came out flat. Good thing we were able to stick together and grind through this one, especially in a game that we really struggled," said Ginebra coach Siot Tanquingcen. "Good other people stepped up. JJ filled the void, Wilson, Taha gave us energy and Ellis."
Rain or Shine entered the fourth with their 18 point lead slashed to only six, 75-69. TY Tang opened the payoff period with a trey, before Yousef Taha completed an and-one play , 78-72.
A Tenorio trey with five minutes left cut the lead to four, 81-77, before a Billy Mamaril jumper had Ginebra inching even closer.
Jeff Chan converted on a three and a jumper, but two threes from Tenorio and Jayjay Helterbrand cut the lead to two, before Chris Ellis completed a three-point play on the break to give Ginebra the lead, 89-88, with 1:51 remaining.
With 40 seconds left, JR Quiñahan was whistled for a foul, giving WIllie Wilson two freethrows to up the lead to three, 91-88.
After a Chan miss, LA Tenorio sank two pressure-packed freethrows to bring the lead up to five, 93-88, with 16 seconds remaining.
Quiñahan hit a quick two with two seconds to go to cut the lead to three, but Rain or Shine was whistled for their second delay of game infraction giving Tenorio and extra freethrow, 94-90.
With 13.3 ticks left, Caguioa split from the line for a five point lead, as Chris Ellis ended the game with a reverse windmill slam for the final score. - RAF, GMA News
The scores:
GINEBRA 97 - Tenorio 20, Caguioa 18, Ellis 15, Mamaril 12, Wilson 9, Maierhofer 7, Helterbrand 6, Taha 4, Espiritu 2, Raymundo 2, Hatfield 2, Labagala 0.
RAIN OR SHINE 90 - Cruz 17, Rodriguez 14, Tang 12, Chan 11, Quinahan 10, Tiu 8, Arana 8, Belga 7, Matias 3, Norwood 0.
Quarters: 20-33, 42-57, 69-75, 97-90
SOURCE: GMAnews

Ginebra Tambayan

News Maker





Posts

: 1095




---
Permissions in this forum:
You
cannot
reply to topics in this forum