PBA: Barangay Ginebra San Miguel Philippine Cup preview
CARLO PAMINTUAN, GMA News September 29, 2012 9:06am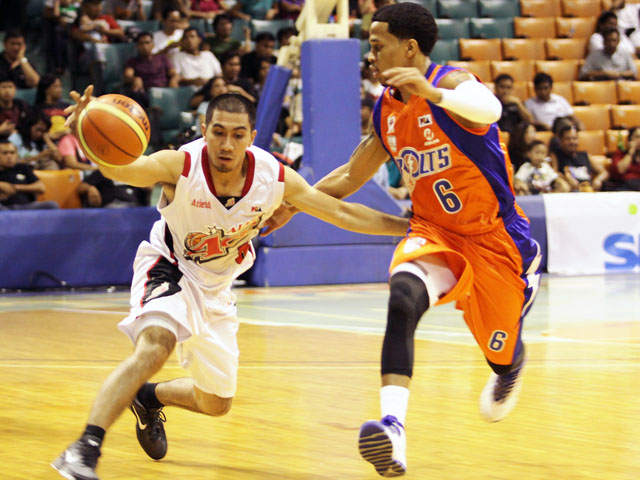 The new lieutenant of the barangay, LA Tenorio (left), will definitely have a huge impact on Ginebra .
Jeff VenancioLast Philippine Cup:
The Kings had a very good showing in last year's Philippine Cup. They ended up having the fourth slot and they were only one game behind B-Meg and Talk 'N Text who got the top two seeds. The Barangay was hopeful for a Ginebra Kings run to the Philippine Cup Finals but they were unceremoniously swept by the Rain or Shine Elasto Painters in two games.That said,they did pull off a few trades, adding young talents Allein Maliksi and Dylan Ababou, who will carry the franchise after the current batch of stars finish their careers.
Offseason Moves:
Ginebra had a fruitful 2012 PBA Draft as they swept up the slam dunking Chris Ellis and big man Keith Jensen to bolster their lineup. The Kings looked like a formidable contender after that point but they were far from done. They received LA Tenorio from Alaska in a blockbuster trade that involved three teams.Tenorio is the playmaker that Ginebra needs. With his entrance, Mark "The Spark" Caguioa can now pick his spots instead of doing everything on his own.
In the process however, Ginebra lost a bunch of role players from last season. They gave away John Wilson and KG Canaleta to Air21 for a precious first round draft pick they will enjoy next year. They also lost lost big man Enrico Villanueva in the trade for Tenorio. Although these are all familiar names to fans, the departure of any of these players will not deeply hurt the crowd favorites. Trading away Canaleta and Wilson simply means that young studs Ababou and Maliksi will have more minutes to play which will undoubtedly aid their development, something Ginebra will only benefit from in the future.
Three keys to being successful in the Philippine Cup
1. Tenorio needs to make the young guys better -
The Kings know what they will get from Mark Caguioa, Jay-jay Helterbrand, and Mike Cortez. How their young wingmen will perform depends largely though on how Tenorio controls the tempo. Ababou, Maliksi, and Ellis are all tremendous athletes who will run the floor each and every time and it is up to the point guard to properly reward them. Maliksi and Ababou struggled last season because they could not create their own shots, but with a playmaker like Tenorio at the helm, points will come easily for this explosive duo from UST.
2. Mark Caguioa needs another MVP season -
Last year was really good for Caguiao but as he said, he would trade the MVP trophy for a championship. However this year, he may have the chance to get both. Caguiao is still one of the best players in the league, even if the years are slowly piling up on him. If he gets his MVP numbers while the rest of the team steps up and get their too, a Barangay Ginebra championship this season is not that hard to imagine.
3. Run like the wind -
Ginebra has a surplus of guards and wing players which will mean they can have fresh legs at any point of the game. Thus, the best way to prevent other teams from loading up on their bigs is to run as often as possible. A morbidly fast offense will not only entertain the legions of Ginebra fans out there, it will also highlight their team's best assets (guards and energetic wingmen) while masking their biggest weakness (post and interior defense).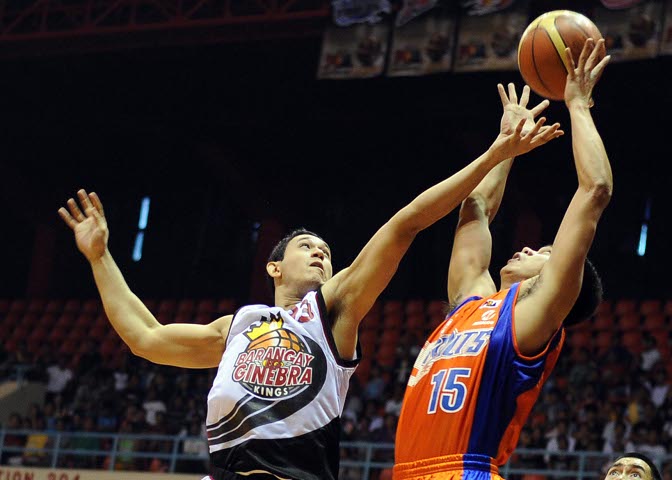 Dylan Ababou (left) leads a core of young wingmen that will excite Ginebra fans.
KC CruzWhat's the one thing that scares Ginebra fans?
Teams with dominant big men will be a struggle for the Kings. Their center and power forward rotation consists of Kerby Raymundo, Willie Wilson, Rudy Hatfield, Billy Mamaril, and rookie Keith Jensen. This would have been a really good crop for small forwards and power forwards but not for power forwards and centers. Their guards can run anyone to the ground but if the Kings are baited into a drawn-out half-court battle, it will be difficult for them to come out unscathed.
How this will likely play out:
Expect the Kings to end up in a placing near where they were in the last Philippine Cup. They are better than most teams, but they will find it hard to defeat teams like Talk 'N Text and Petron. However, if Tenorio figures out how to play with this team loaded in the 1-3 positions, then Ginebra can cause some chaos in the playoffs.
- AMD, GMA News
Source: Gmanetwork.com

Ginebra Tambayan

News Maker





Posts

: 1095



RT @BGK_JamshipsFam: After the 3 PBA playing dates, BGSM is currently number 1 in assists (32apg), offensive rebounds (21), fastbreak points (18) and BENCH SCORING (61)

ruxs_14

Global Moderator





Posts

: 2739



sana mag2loy 2loy na ang magagandang play ng ginebra....

babyevoces

Bench Player





Posts

: 427


Location

: Cavite




---
Permissions in this forum:
You
cannot
reply to topics in this forum