Grading the 2012 PBA Draft: Petron, Alaska, Meralco, Barako, Ginebra

CARLO PAMINTUAN, GMA News August 22, 2012 5:35pm
The recently concluded 2012 PBA Draft had more than its fair share of surprises. A couple of teams stunned the league by selecting players way before the initial projection, while a couple of teams also astonished the league by passing up on a player who was thought to be one of the most sought after in the draft.

How did the Petron Blaze Boosters, the Alaska Aces, the Meralco Bolts, the Barako Bull Energy Cola, and Baragay Ginebra San Miguel do? Check out their grades, below.


1. Petron Blaze Boosters

2012 PBA Draft haul: June Mar Fajardo (1st), Alex Mallari (3rd), Mark Sarangay (25th)

Their first overall pick was a no-brainer. 6'10" June Mar Fajardo is the biggest man in the draft and he is expected to carry the Petron frontline in the near future. The Blaze Boosters surprised everyone though by selecting Alez Mallari with the third pick.

Looking at Petron's lineup, they could have benefited from a glue guy such as Cliff Hodge, someone who would happily do the dirty work for the star-studded team. However, the Petron management presumably felt that Mallari was too good to pass up on.

Still, Petron's problems last season stemmed from their lack of team chemistry, as then-head coach Ato Agustin struggled to find minutes for everyone on their loaded line-up. That quandary still exists for new mentor Olsen Racela, and may have in fact gotten worse with Fajardo and Mallari now in the mix. That said, there are worse problems as compared to "too much talent," so it's not too bad.

Grade: A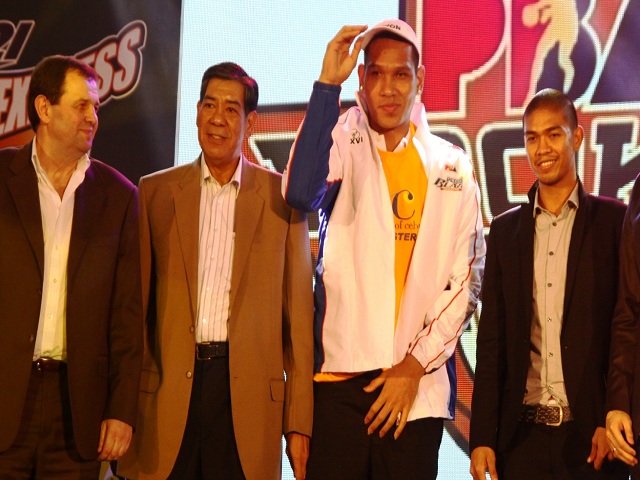 June Mar Fajardo goes first overall to the Petron Blaze Boosters. Jeff Venancio
2. Alaska Aces
2012 PBA Draft Haul:
Calvin Abueva (3rd), Raffy Reyes (19th), Karl Dehesa (22nd)
The Alaska franchise has fallen on hard times. They lost their long-time head coach Tim Cone and then struggled to find their team's identity, keeping the triangle offense Cone installed in the first conference with Joel Banal, ditching it in the second conference, and then bringing it back with Banal's exit and Luigi Trillo's entrance.
Simply put, the Aces looked stale last season. They had very good players on their team such as LA Tenorio, Cyrus Baguio, and Sonny Thoss, but there was always something missing. That's why their selection of Calvin Abueva is such a big help because it adds some much needed edge to this team. The Beast will rebound, score, and run plays for the Aces and he'll also give them the toughness that was absent last season.
Still, the feeling is they could have gone after other, possibly more talented guys in the subsequent rounds. While Raffy Reyes can harass opposing point guards and Karl Dehesa has flashes of athleticism, there were players still available with better credentials.
Grade:
B
3. Meralco Bolts
2012 PBA Draft Haul:
Cliff Hodge (4th), Kelly Nabong (17th), Janus Lozada (24th), Eric Suguitan (34th)
The Meralco Bolts did very well in this year's draft. Some luck was involved as Petron chose Mallari over Cliff Hodge, who was the consensus number 3 pick after Fajardo and Abueva. A lot of people compare him to Rudy Hatfield but he could be more like what Marc Pingris is to the Llamados.
Getting another big in Kelly Nabong was also a tremendous move as they only gave up their second round pick in 2015 for him. Janus Lozada was also a good third round pick. The former Adamson Falcon could be a successful PBA small forward as he has good touch from the perimeter, is a solid defender, and also boasts of a reliable back-to-the-basket game though he would need to bulk up more.
Grade:
A
4. Barako Bull Energy Cola
2012 PBA Draft Haul:
Dave Marcelo (12th), Lester Alvarez (14th), Emman Monfort (15th), Ryan Boado (23rd), Kokoy Hermosisima (33rd) + Sean Anthony from B-MEG
Barako Bull threw the second curve ball in the 2012 PBA Draft when they selected Aldrech Ramos with the fifth pick. At that point, Chris Tiu and Chris Ellis were still available but they chose the former FEU Tamaraw.
Apparently, they were picking for B-MEG, as they quickly traded Ramos for Sean Anthony and a later pick which turned out to be Dave Marcelo. Anthony and Marcelo will add a much-needed dose of youth to their squad, while bolstering their front court for years to come.
The team also addressed their need for point guards, by drafting high-scoring Lester Alvarez and stopper Emman Monfort back-to-back. They then added a third ball handler in Fil-Am Ryan Boado, and an additional shooter in former NU Kokoy Hermosisima, later in the draft.
Grade:
B
5. Barangay Ginebra San Miguel
2012 PBA Draft Haul:
Chris Ellis (6th), Keith Jensen (8th), Jerick Canada (28th), Paul Zamar (38th), Virgil Buensuceso (48th), Elliot Tan (58th)
When the name "Chris" left the mouth of Commissioner Chito Salud, shrieks were heard throughout building.
Most of the fans expected "Tiu" to follow but it was "Ellis" that was read. Having a player like Chris Tiu wearing a Ginebra jersey would have been must-see TV if ever it happened but the Ginebra braintrust felt that they need the energy and scoring ability of Chris Ellis over the playmaking and marketing value of someone like Tiu.
Ginebra followed this up by getting a big in Keith Jensen, which will give life to their struggling front court. They then got a steal late in the third round by tapping Jerick Canada, before closing the draft out with a trio of guards.
Grade:
B+
- AMD, GMA News

Source: Gmanetwork.com

Ginebra Tambayan

News Maker





Posts

: 1095




---
Permissions in this forum:
You
cannot
reply to topics in this forum