PBA: Get to know the Governors' Cup's sensational semifinals six
ADRIAN DY, GMA News July 6, 2012 1:57pm
They began with 10, now it's down to six. With the elimination round of the 2012 PBA Governors' Cup over and done with, records now carry over to the semifinal phase, as teams jockey for the two spots in the Finals of the season's last conference.
Rain or Shine, B-MEG, Talk 'N Text, Petron Blaze, Barangay Ginebra, and Meralco are all set to go to battle, but before they tip-off, here's a primer on each of the six, and how their weaknesses and strengths could decide who lifts the trophy when the dust settles.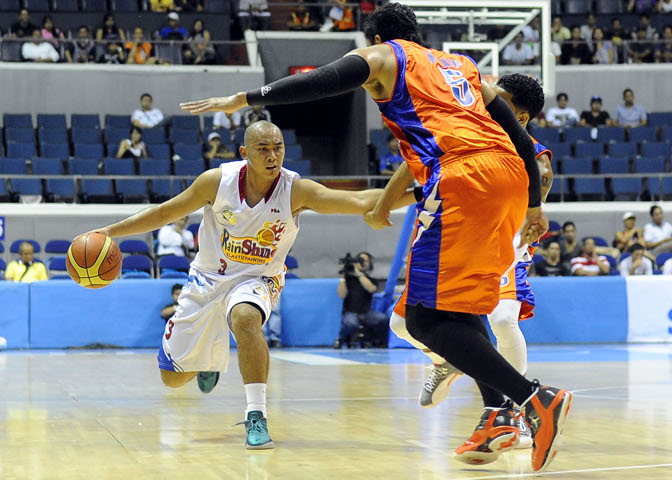 Rookie sensation Paul Lee is shooting better than 50 percent and has his Elasto Painters looking dominant.
KC CruzRain or Shine Elasto Painters (8-1)Strengths:
The aggressive-minded Elasto Painters take (30.56 FTA) and make (21.44 FTM) the most free throws in the current conference. They're also extremely sure-handed, turning the ball over the fewest times (11.78 TO). On defense, it's the flip-side: as they give up the fewest trips to the line, just 22.11 per game. The "extra rice" brigade of Beau Belga, Jervy Cruz, and JR Quinahan, together with import Jamelle Cornley, also does a good job of contesting shots inside the arc, allowing just 41.9 percent shooting on two-pointers.
Weaknesses:
As a result of their big men hanging out on the perimeter for jump shots, Rain or Shine is a lousy offensive rebounding team, getting just 11.67 repossessions a game. And because they're so concentrated on defending the interior, opponents shoot 35.95 percent from three-point land against them.
Import:
Jamelle Cornley
34.33 minutes - 23.44 points (35.71% 3pt, 50.67% FG, 52.38% FT), 10.33 rebs, 2.33 asts, 0.67 stls
Team MVP:
Paul Lee
25.75 minutes - 14.25 points (51.72% 3pt, 51.43% FG, 87.10% FT), 2.63 rebs, 3.50 asts
Sure he's a rookie, but he certainly doesn't act like one. Rebounding from a poor Commissioner's Cup, Lee is near automatic from the field now, getting his 14 points on better than 50 percent shooting. The most amazing part though might be that despite a two-game stretch where he played just eight minutes, the Elasto Painters kept winning, a mark of their frightening depth.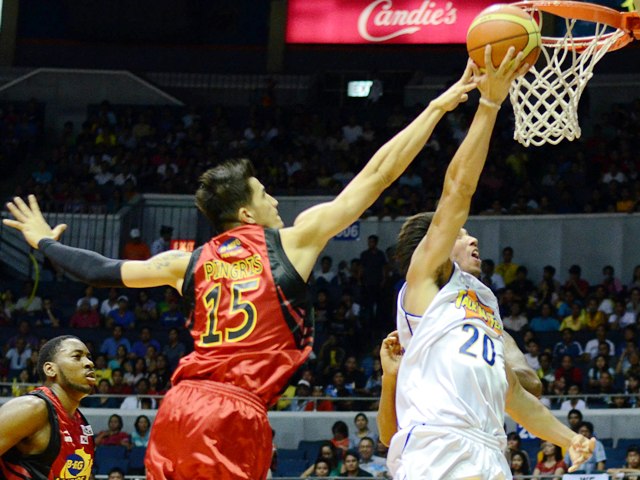 The man in the middle for B-MEG is Marc Pingris.
KC CruzB-MEG Llamados (6-3)Strengths:
If the saying "defense wins championships" holds, then B-MEG looks to be in good shape. They allow just 86.56 points, thanks to holding opponents to only 26.07 percent shooting from the outside, 38.51 percent overall, all of which are top marks in the Governors' Cup. They're also the best rebounding team (53.78 rebs) and the squad most likely to send your shot into the stands (6.0 blks)
Weaknesses:
For all their defensive prowess, B-MEG hasn't been sparkling on the offensive end. They score the fewest points (89.22 pts) because they're the lousiest shots from the field (40.95%). A canny opponent might try to get the jump on them early (20.00 first quarter pts) and then hope their offense can't fuel a comeback.
Import:
Marqus Blakely
40.00 minutes - 23.67 points (21.43% 3pt, 41.98% FG, 62.71% FT), 12.11 rebs, 3.78 acts, 3.44 stls, 2.78 blks
Team MVP:
Marc Pingris
34.29 minutes - 7.29 points (46.15% FG, 68.18% FT), 9.71 rebs, 3.43 asts
A tenacious defender and an avatar of hustle, Pingris is the type of player whose contributions go beyond the box score, thanks to a highlight reel of lunges for the loose ball, shot alterations, and veteran smarts. But that said, his 9.71 rebounds is second in the league for locals, and his 3.43 assists mark is actually better than some starting point guards in the league.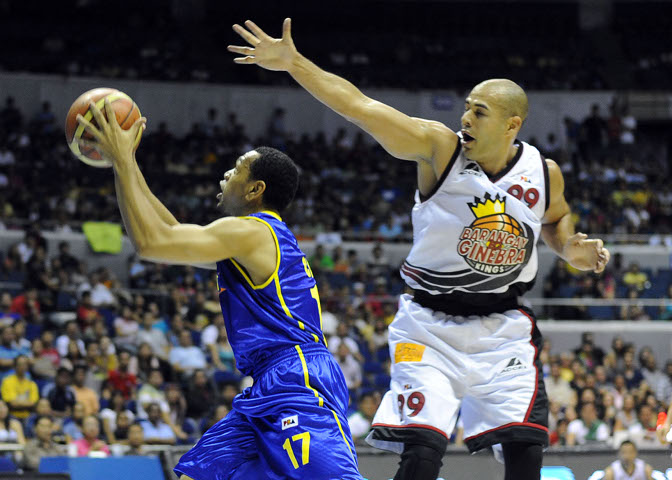 "The Blur" blows by his man in a scene TNT fans hope repeats over and over in the semis.
KC CruzTalk 'N Text Tropang Texters (5-4)Strengths:
When you play the Tropang Texters, you have to expect rain, as in, raining triples, as TNT not only makes the most triples (8.22 treys), they also happen to hit them at the most efficient rate (37.76%). They're also the deepest team in the league, norming 47.44 bench points, and they have a knack for defending without fouling - opponents only took 15.56 free throws against them, fewest among the ten teams.
Weaknesses:
That fancy three-point shooting and immense depth both come at a price for the Texters. They're dead last in both two-point makes (26.11 conversions) and points from starters (49.56). The most worrying statistic though might be the fact that they give up the most two-point attempts (65.56) and field goal attempts (85.56).
Import:
Paul Harris
38.33 minutes - 23.56 points (18.18% 3pt, 46.50% FG, 66.67% FT), 12.11 rebs, 3.0 asts, 1.0 stls, 0.67 blks
Team MVP:
Jayson Castro
23.00 minutes - 17.00 points (36.84% 3pt, 50.00% FG, 95.24% FT), 2.60 rebs, 3.6 asts, 1.0 stls
The numbers don't lie. Without Castro, TNT went 1-3. With Castro, they finished 4-1, resurrecting their semifinal chances from the dead. "The Blur," together with All-Filipino Cup Finals MVP Larry Fonacier, have terrorized opposing teams despite coming off the bench, and if his shooting percentages stay this high, who's to say Talk 'N Text can't make it to the Finals once more?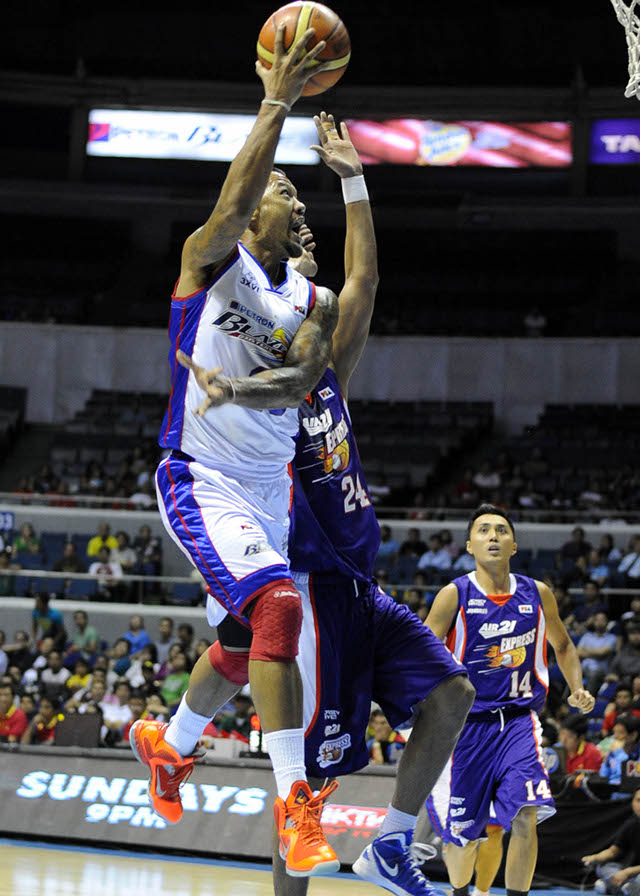 Do-it-all big man Jay Washington looks completely recovered from his injury.
KC CruzPetron Blaze Boosters (5-4)Strengths:
Do you like ball movement, and guys hitting wide-open teammates for easy looks at the basket? Then the Petron Blaze Boosters are right up your alley, as they lead the league in assists (22.2). They're also adept at getting out on the break (12.00 attempts) and stopping opponents from doing the same (6.67), but their defense can also deny opponents three-point looks. They concede just 17.33 triples tries from opponents.
Weaknesses:
It's not that Petron doesn't get to the foul line for easy shots, it's that when they get there, they always seem to miss. They're the worst in free throw percentage, converting just 63.24 percent of their attempts as a team, and as a result make just 13 charities each night.
Import:
Marcus Faison
Faison replaces the injured Eddie Basden, in a bit of a good-news, bad-news situation for Petron. The good news is that the other teams haven't been able to scout their replacement import. The bad news of course is there's no guarantee he can quickly mesh with his new team.
Team MVP:
Jay Washington
26.89 minutes - 15.89 points (42.31% 3pt, 46.96% FG, 85.71% FT), 6.33 rebs, 1.89 ast, 1.00 stls, 1.00 blks
An up-and-down start to the season after months on the sidelines was to be expected for J-Wash, but once he found his groove, he quickly went back to become a match-up nightmare, particularly in his last three starts, with Petron going 2-1. If Faison flops, Washington might be called upon to be the focal point of the offense, and that might not be such a bad thing.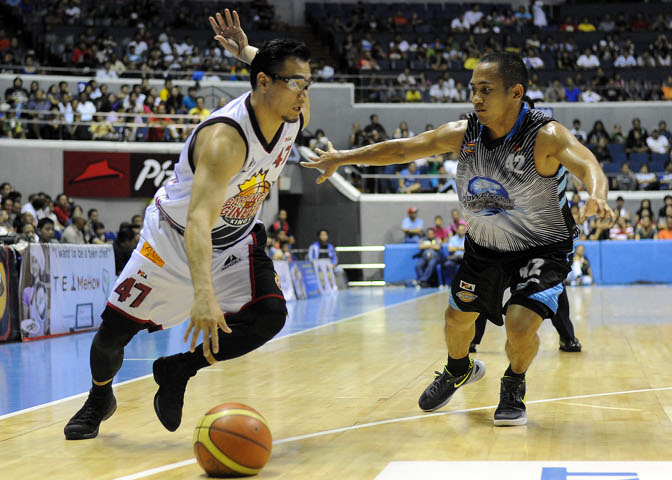 Mark "The Spark" Caguioa can burn you from outside, and by putting the ball on the floor.
KC CruzBarangay Ginebra Kings (5-4)Strengths:
The Kings do their damage inside, shooting 49.91 percent on shots inside the arc, for a league-high 30.67 makes. That helps boost their overall field goal percentage to 46.13 percent too. BGK is also adept at slowing the game down, slowing opponents to around 88.44 possessions per game, the only team to produce a number under 90. And last but not least, Ginebra has a bit of that fourth quarter magic going for them, scoring 26.22 in the last 12 minutes, while holding opponents to just 21 markers, both numbers topping the league.
Weaknesses:
Slowing things down for their opponents means Ginebra has to play slow-ball too, which can be both a boon and a bane for this club, especially if they get into a big hole. Their main concern though is a league-low 19.67 attempts from the foul line per game, which means BGK players, more often than not, are settling for mid-range jumpers.
Import:
Cedric Bozeman
39.56 minutes - 24.67 points (37.50% 3pt, 53.66% FG, 72.55% FT), 10.22 rebs, 5.67 asts, 1.33 stls
Team MVP:
Mark Caguioa
31.67 minutes - 18.89 points (37.25% 3pt, 44.37% FG, 78.13% FT), 3.44 reb, 2.00 asts, 1.22 stls
With Gary David out of the picture, last conference's best local may be arguably the best flat-out scorer remaining in the semis. Caguioa however, is just as essentially to his team as David, perhaps even more so. With the starting line-ups and player rotations over at Barangay Ginebra in a constant state of flux, "The Spark" is the one constant throughout their turbulent Governors' Cup. Expect him though to play some inspired ball, especially after missing out on Ginebra's last post-season stint due to an eye injury.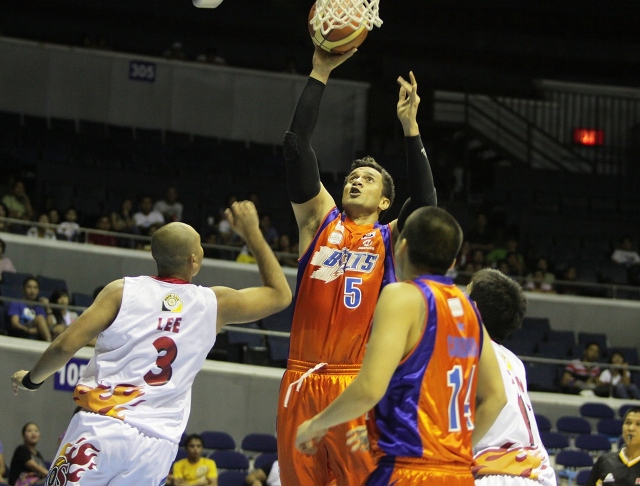 "Rock solid" might be an understatement when used to describe Asi Taulava's recent play.
Jeff VenancioMeralco Bolts (4-5) Strengths:
The Bolts are the kings of easy baskets, forcing the most steals (7.8), which leads to the most turnover points (19.5), which also pairs nicely with their league-best mark in fast break points (16.4). They also allow the fewest field goals as a result, only 75 from their opponents, and they're quick to snap up defensive boards, conceding only 12.8 offensive caroms to their opponents.
Weaknesses:
A zone defense might be just the thing to mess up Meralco, as they're the only team to connect on less than four triples per game, just 3.8, in fact, owing to their horrid mark from downtown, 21.84 percent. Curiously, they're also the poorest scorers come the fourth quarter, scoring just 20.70 markers when things get down to the last 12 minutes.
Import:
Mario West
43.33 minutes - 30.83 points (37.14% 3pt, 48.51% FG, 64.62% FT), 7.33 rebs, 2.5 asts, 3.50 stls, 1.33 blks
Team MVP:
Asi Taulava
33.80 minutes - 12.00 points (56.76% FG, 69.23% FT), 11.2 rebs, 0.80 asts, 0.90 blks
"'The Rock' is back in the semi-finals!" Taulava proclaimed after his squad eliminated the Powerade Tigers in their battle for the sixth and final post-season berth. Indeed, they've been so spectacular in the tail-end of the Commissioner's Cup, as well as all conference long thanks to his dip into the fountain of youth. Averaging a double-double once more, Taulava gets to guard the interior, while West takes care of the perimeter and others handle the scoring. It's the perfect fit for a team looking to shock and awe.
Source: Gmanetwork.com

Ginebra Tambayan

News Maker





Posts

: 1095



Hindi pa pla si jemsyuck MVP nila si Sakuragi pa

betterhalf

Global Moderator





Posts

: 13764


Location

: manila



malaki ang tsansa talaga naten dahil halos lahat naman nyan close game lang tayo natalo except sa petron na tinalo naten at meralco

MR. FAST

Admin





Posts

: 18119


Location

: Ginebra Tambayan



basta maging consisitent lang tayo sa play and pagbalasa ng player sure may chance tayo sa finals...

jayjay#13

Rookie





Posts

: 285




---
Permissions in this forum:
You
cannot
reply to topics in this forum