PBA Weekly Warriors: It's raining shots as Ritualo, Fonacier, Caguioa dominate past week
ADRIAN DY, GMA News June 26, 2012 4:23pm
PBA Weekly Warriors will be a regular feature, putting the spotlight on five hoopsters who stood out in the previous week of play. This fifth article tracks the performances from June 20 to June 24's games.

Week 1 - May 20 to May 27
Week 2 - May 30 to June 3
Week 3 - June 6 to June 10
Week 4 - June 13 to June 17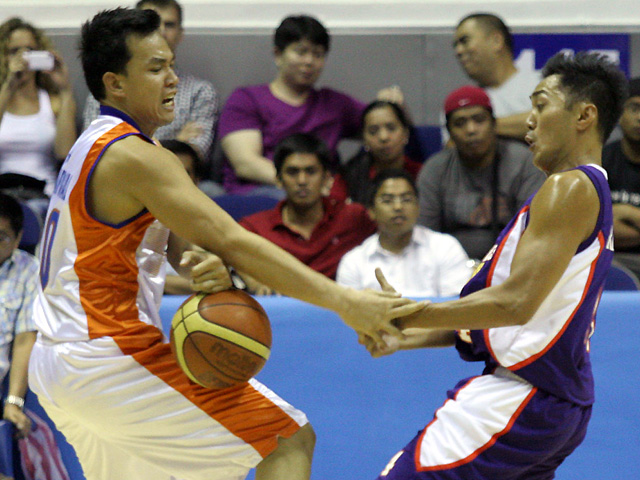 "Your hands, they will be so hot!" says Meralco's Mark Macapagal (left). A game later, Ren-Ren Ritualo exploded for a perfect 6-for-6 performance from downtown.
KC Cruz

The old hand, the hottest hand
Ren-Ren Ritualo - Air21 shooting guard
Versus Powerade: 22 points (6/6 3pt, 8/11 FG), 2 rebounds, 1 assist

A few hours after the Miami Heat's Mike Miller closed out the NBA Finals with a 6-for-7 three-point shooting performance, Air 21's Ren-Ren Ritualo did him one better, knocking in six triples without a single miss, as part of the best offensive performance from the Shopinas.com Clickers/Air21 Express franchise's history (The team scored 128 points. Their previous high was 100, which they notched this conference, in a loss to Barako Bull).

According to PBA statistician Fidel Mangonon III, Ritualo's pyrotechnics match the PBA's all-time record for most three pointers made without a miss. That it came in just the team's second win this conference probably made it much sweeter.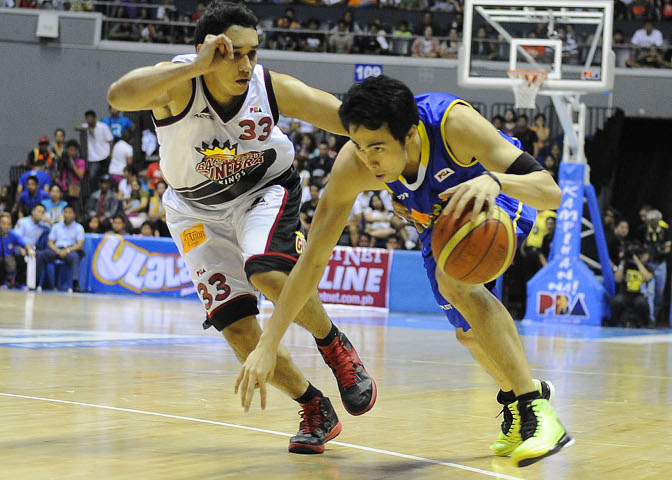 Babyface Assassin's Creed - Larry Fonacier (right) stalks his prey, evading Ginebra's Dylan Ababou.
KC Cruz

Larry regains his legend
Larry Fonacier - Talk 'N Text swingman
Versus Barako Bull: 20 points (3/3 3pt, 6/7 FG, 5/5 FT), 2 rebounds, 2 assists, 1 steal, 1 turnover

Versus Barangay Ginebra: 19 points (2/5 3pt, 7/15 FG, 3/3 FT), 9 rebounds, 4 assists, 1 steal, 1 turnover

This season's All-Filipino Cup Finals MVP has endured quite the cold streak. During the tail-end of the Commissioner's Cup, the former Ateneo Blue Eagle managed just two double-digit scoring outings in that conference's last ten games. Then his cold streak stretched out into the Governors' Cup, where he totaled just 18 points over the first three games when a large part of his team was out injured.

But over their last four games, Fonacier has rediscovered his aim, norming 16.5 points and hitting fifty percent of his triples. He's also been showing that he can do things besides score, especially in their last game versus the Ginebra Kings, when he hauled in nine rebounds (a conference-high) and dished out four dimes (one shy of his conference-high). Besides the return of Jayson Castro to the line-up, a large part of the Tropang Texters' recent success has to be placed on Fonacier's shoulders.


No Paul Lee, no problem
Jireh Ibanes - Rain or Shine swingman
Versus Petron Blaze: 15 points (1/2 3pt, 7/9 FG), 6 rebounds, 7 assists, 1 block, 1 turnover

No Paul Lee again? No problem still. After beating Barako Bull with just eight minutes from their super-rookie, the Elasto Painters showed that they were more than just a one-man team, dropping the defending Governors' Cup champs in a decisive game.

Although Gabe Norwood stepped up his game again, scoring 16 a game after his then conference-best 15 in the game where Lee got injured, the secret ingredient turned out to be Jireh Ibanes, who was known primarily as a defensive stopper. But not only did Ibanes help goad the Blazers into a 30.8 percent shooting night from the field, he also stuffed the stat sheet, scoring, boarding and dishing out dimes. Coming into that game, he was norming just 19 minutes, but the short-handed Rain or Shine gave him major burn, 31 minutes, and he rewarded his team's confidence in him with a superb outing.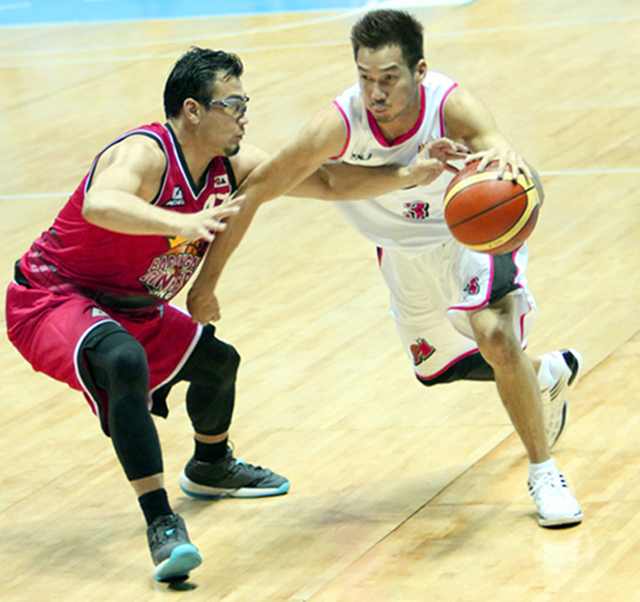 Mark Caguioa (left) is now a threat on both offense and defense with his enhanced stealing ability.
KC Cruz

"The Spark" flies
Mark Caguioa - Barangay Ginebra shooting guard
Versus Alaska: 22 points (1/6 3pt, 10/25 FG, 1/2 FT), 5 rebounds, 4 assists, 3 steals, 1 turnover

Versus Talk 'N Text: 32 points (3/7 3pt, 13/25 FG, 3/3 FT), 4 rebounds, 3 assists, 4 steals, 3 turnovers

Is it possible for a Best Player of the Conference awardee to still have room to expand his game? Mark "The Spark" Caguioa is making a case for it, putting up some huge numbers, in spite of a roller coaster conference that has Barangay Ginebra failing to notch back-to-back wins in eight games.

Coming back from an eye injury that prevented him from playing the post-season of the Commissioner's Cup, Caguioa, through the first six games of the conference was scoring 15.67 points on 43 percent shooting with 2.83 boards, 1.33 assists, and 0.5 assists. Since then, he's upped that to 27 points on 46 percent shooting, with 4.5 caroms, 3.5 dimes, and 3.5 swipes. He's also been Ginebra's most consistent local all conference long, but he'll need to give everything he has to finish the elimination round with a "W," in order to increase BGK's chances of advancing.

Super-duper Mario
Mario West - Meralco import
Versus Air21: 34 points (2/6 3pt, 10/20 FG, 12/16 FT), 7 rebounds, 5 assists, 7 steals, 1 block, 6 turnovers

Versus Powerade: 29 points (2/4 3pt, 11/18 FG, 5/8 FT), 9 rebounds, 0 assists, 2 steals, 3 blocks, 3 turnovers

Meralco seems poised to pull off a repeat of last season, when they went 4-1 to end the elimination round and gave B-MEG a scare in the quarterfinals. They're now 3-1 in their last four outings with a game left, and with Powerade, Petron and Ginebra absorbing recent losses, the door is wide open for the Bolts to sneak in.

Part of their success has stemmed from new import Mario West finding his groove with the team. In his first two outings, West took 53 shots, making just 20. In their past two games, both victories, he went 21-of-38, a marked improvement. But the former NBA player is also making a name for himself on defense. Versus Air21, he more than made up for his six turnovers by coming up with seven thefts. Then against Powerade, West played a large part in bullying Gary David into a mundane 9-of-21 night. That's exactly the sort of versatility the team was looking for when they signed him to replace the one-dimensional Champ Oguchi. - GMA News

Source: Gmanetwork.com


Ginebra Tambayan

News Maker





Posts

: 1095



Ipagpatuloy mo lang yan MC sigurado ako magbubunga ng maganda yan! galing mo talaga at sana makausad ang team naten sa semis para mas malaki ang chance mo sa mga awards (BPC and MVP)

MR. FAST

Admin





Posts

: 18119


Location

: Ginebra Tambayan




MythicalV

MVP





Posts

: 6904




Similar topics
---
Permissions in this forum:
You
cannot
reply to topics in this forum