PBA Weekly Warriors:
Sneed stars, Maierhofer returns and Guevarra dunks on our heads


ADRIAN DY, GMA News June 5, 2012 9:58pm
PBA Weekly Warriors will be a regular feature, putting the spotlight on five hoopsters who stood out in the previous week of play. This second article tracks the performances from June 30 to May 3's games.
Week 1 - May 20 to May 27
Willie Miller, still a thriller
Willie Miller - Barako Bull Energy guard
Versus B-MEG:
29 points (3/7 3pt, 10/16 FG, 6/6 FT), 3 rebounds, 7 assists, 2 turnovers
Though the 34-year-old veteran is approaching, if he's not already in, the twilight of his career, "The Thriller" is still capable of putting up explosive performances from time-to-time, like an old gunslinger wanting to go out with a bang.
Miller did exactly that versus this season's Commissioner's Cup champs, the B-MEG Llamados, exploding for 29 points, 16 coming in the final quarter, to keep the Energy close enough to give his former coach Tim Cone a scare. Factor in his seven assists and Miller's fingerprints were all over that game.
A Rey of light for the Tigers
Rey Guevarra - Powerade Tigers swingman
Versus Alaska:
15 points (6/8 FG, 3/3 FT), 3 rebounds, 1 assist, 1 steal, 1 block
Add to his stat line one monster dunk, because that's likely the first thing that pops into your head now when you hear his name.
When the Tigers landed him, the team hoped he could replace some of the defensive hustle of Marcio Lassiter, whom Guevarra and Rabeh Al-Hussaini were acquired in exchange for. And while that's still a work in progress, ashe has a tendency to foul too much, Guevarra's been flashing his ridiculous athleticism and scoring touch, helping to revive Powerade's season after a 0-2 start.
Return of the Rico
Rico Maierhofer - Barangay Ginebra Kings forward
Versus Meralco -
7 points (3/3 FG, 1/4 FT), 12 rebounds, 2 assists, 4 blocks, 1 turnover
Since landing with the Kings in November of last year, Ginebra fans have been waiting to see what the former DLSU standout could add to their squad. It goes without saying that it was a long wait, with Maierhofer missing the entire Commissioner's Cup due to injury.
However, Maierhofer awarded his team and his fans' patience, getting off to an explosive start that saw him hustle for rebounds and reject multiple shots. Sure the Kings' roster situation is a crowded one, but with games like their recent Cebu jaunt, it will be hard not to put him on the floor.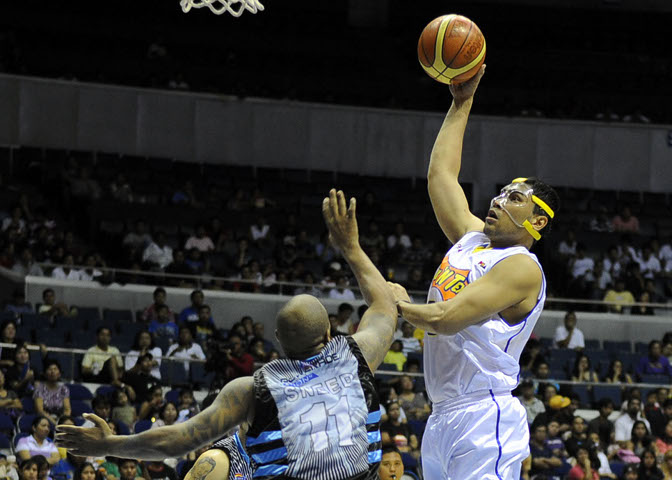 The brother strikes back: Ranidel makes his mark
Ranidel de Ocampo - Talk' N Text Tropang Texters forward
Versus Petron:
23 points (4/4 3pt, 4/6 FG, 3/4 FT), 5 rebounds, 1 assist, 1 steal, 1 block, 2 turnovers
Possible sibling rivalry? After brother Yancy De Ocampo put up back-to-back highlight reel performances, Ranidel quickly responded with scintillating shooting performance against an old rival, the Petron Blaze Boosters.
Showing off his entire arsenal, Ranidel didn't miss a single triple, all the while still putting up across-the-board stats. It was just the sort of thing his team needed to snap a two-game funk and post their first Governors' Cup win.
Sneed's the one
Omar Sneed -
Powerade Tigers import Versus Alaska - 13 points (0/1 3pt, 6/11 FG, 1/2 FT), 9 rebounds, 11 assists, 3 steals, 4 turnovers Versus Talk 'N Text - 32 points (0/1 3pt, 12/19 FG, 6/11 FT), 23 rebounds, 3 assists, 2 steals, 2 turnovers
What can a new import do for you? How about totally turn a season around? The Tigers went from 0-2 to 2-2 in the span of a week, thanks to the squad jettisoning former NBA player Rashad McCants in favor of the unheralded Omar Sneed.
In Sneed's first game, the well-traveled journeyman showed no problems fitting in, posting a near-triple double on the back of 11 timely assists as he constantly set up open teammates. Then in their second outing, when everyone thought they had figured him out, Sneed showed that he could put the ball into the basket himself as well, producing 32 points in addition to 23 boards. That's the type of versatility and hustle that could fuel the Tigers to another Finals stint.
- GMA News
Source: Gmanetwork.com

Ginebra Tambayan

News Maker





Posts

: 1095



go rico sana lang lagi mgamit

athankings

MVP





Posts

: 5740


Humor

: I may look tough, but inside I'm easily broken. My words may seem strong, but inside I've never spoken.



Galing mo talaga Idol Rey

ok yan may playing time ka na!

MythicalV

MVP





Posts

: 6904



go PRM ......... pakita mo uli kung sino ang tunay na pinoy sakuragi ..........

garrett_jax

MVP





Posts

: 9552


Location

: Brgy. GINEBRA



may kulang dito sa article na to, dapat sinama nya si Maliksi! ganda kaya ng pinapakita nya ngayon!

kontra ROS - 9pts
kontra Bolts - 16pts
kontra BMEG - 7pts
kontra AIR21 - 13pts

ave. 11.25 pts/game, mataas yan para sa isang player na kagagaling lang sa injury tas rookie pa..

MR. FAST

Admin





Posts

: 18119


Location

: Ginebra Tambayan




---
Permissions in this forum:
You
cannot
reply to topics in this forum